---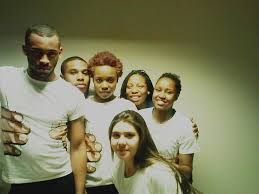 Jun 9 – Jun 24, 2016
Written by Koffee Dance Company
Directed by Avis Hatcher-Puzzo
Coproduced by Koffee Dance Company
FIVE Performances 6/9, 6/18, 6/24 at 7:30 pm, 6/11 and 6/19 at 2 pm
Koffee Dance Company is creating a movement/theater project entitled Insomnia, a presentation that explores the complex issues plaguing young African-Americans today.   As this generation has adopted #staywoke, KDC performers explore relationships, trauma, and identity, forty years after the release of the battle cry song, "Wake Up Everybody." 
About Koffee Dance Company
Fresh full of young, effervescent talent in the Raleigh-Durham area, Koffee Dance Company aims to influence the dance scene with interesting subject matter, challenging choreography, and performers that are unique and bold.
Koffee is under the direction of AVIS HATCHER-PUZZO (Espresso) is the founder of Koffee Dance Company (KDC). A native of Connecticut, "Ms. Avis" is the Associate Professor of Dance at Fayetteville State University. She holds a BA in Dance/Theater from Trinity College, an MFA in Theater Arts and Dance from Case Western Reserve University and a MS in Higher Education from Capella University. Professor Hatcher-Puzzo has trained in Horton, Cunningham and Graham dance techniques as well as African, hip-hop and various styles of jazz. She studied with Judy Dworin, Garth Fagan, Clay Taliaferro, Darius Hockman, Ned Williams and Kathryn Karipides.
As a dancer with both the Paul Hall's Contemporary Dance Theatre (a former member of the Alvin Ailey American Dance Theater), and the dance company Mikata, while working in Connecticut she founded Wette Paint Dance Theater, a contemporary dance and theater company which toured the east coast. Ms. Avis' students are now graduates of The Alvin Ailey School, Temple University dance department, New York University dance department, and University of the Arts in Philadelphia, as she incorporates Horton technique into jazz, hip-hop using theatrical gestures and situations. Read More »
Estimated run time: 1.5 hours.
Past Productions & Events
The following shows/events have passed.
---