---
Taught by Burning Coal Professional Theatre Artist
WillPower! is our Education Outreach Program that works in collaboration with public and private schools throughout central North Carolina, to place a trained professional theatre artist in school for residencies from one day to six weeks in duration.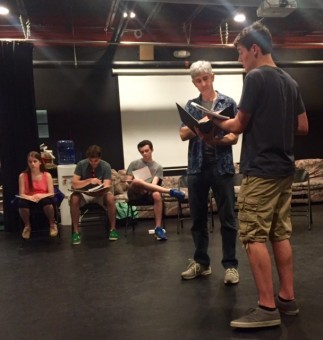 Founded in our second season (1998/99), WillPower! was originally developed to educate elementary, middle, and high school students about the works of William Shakespeare and has since matured into a tailored curriculum for students covering topics such as acting, movement, improv, theatre history, spoken word poetry and devising.  We can also take the lead on creating a FULL PRODUCTION at your school (or online during the Coronavirus pandemic).
The residencies bring a trained, professional theatre artist into your school to conduct a workshop or performance with your drama, theatre, or English classes.
Whether you are looking for new ways to approach Shakespeare, or to strengthen your students' performance skills with additional training tools, or introduce new perspectives and methods to enrich your students' classroom experience, Burning Coal's guest artists bring both advanced training and our signature passion.  Every residency is custom designed to meet the needs of each individual class, school and teacher. We custom tailored curriculum courses in every theatrical discipline with flexible residency lengths.
AND we can also put together a tour trip to NEW YORK CITY, LONDON or any other theatre capital that your group would like to travel to.  We do it cheaply AND we do it with the personal touch, making sure your group stays right in the heart of the City and sees and does things that you want to do.   CLICK HERE to view a FAQ sheet.
We look forward to working with you to design a curriculum that ignites the fuse within each of your students!
WillPower! Residencies
Full Production

In the year of the Coronavirus, the safest way to produce theatre is online.  We are happy to work with your school to create a 'fully mounted' virtual production.  We would work with your students online for a month to rehearse, design, stage and present a fully realized production.  All you need to do is pick the play, get the rights to it, cast it and provide the time frame in which the students will be available.  We'll do the rest.  Fee:  $2,000.
Acting Workshop:  Scene Study
Students will be assigned a scene from a play chosen by their teacher. They will also be assigned a scene partner and will be expected to read the entire play. We will rehearse these scenes in a workshop format each session, with each student watching and learning how to effectively evaluate the work of their classmates as well as how to process feedback regarding their own work.
Through rehearsal and practice, students will learn about dramatic structure, as well as acting techniques from the Stanislavski System such as 'objective' and 'action'
Additionally, each student will gain a better understanding of the rehearsal process in which the text is the primary consideration.
Teach basic dramatic structure and text analysis through practical exploration within a rehearsal setting
Workshops that are 2 weeks or longer will culminate in a performance of the material created by the students.
      Fee:  $500 per week (number of weeks may vary).
Acting Workshop: Monologues
At the first session, each student will be assigned a monologue to learn which they will then be led through a series of techniques in order to bring a piece of text to life without a scene partner. Students will learn acting techniques such as relaxation and focus, as well as objective and action, in order to master their monologue.
Students will learn basic text analysis through rehearsal
1-4 Weeks with option of performance for the final week
      Fee:  $500 per week.
Devised Theatre
A crash course in one of the most exciting, cutting-edge forms of theatre today, which emphasizes collaboration and creativity. Concludes with a performance of a student-devised show.
1-8 Weeks
Fee:  $500 per week.
Monologues: The College Audition Workshop
This class is designed for high school students looking to sharpen their monologue repertoire and audition skills.  Perfect for those who are auditioning for BFA Acting programs, both in the US and abroad.
One Session:
Workshop:  Students may arrive with their chosen monologue memorized.  Each student will workshop their chosen monologue, through focused instruction on finding a clear objective, as well as what to expect during the audition process.  We will prepare students for the possible questions to expect in the room and typical adjustments they might receive.
Two Sessions:
Monologue Selection Students may arrive with 2-3 options memorized that we will assess according to what is appropriate for a university entrance audition.  The philosophies of different theatre programs will be discussed as well as what monologue might be most appropriate for each school.
Workshop:  Each student will then workshop their chosen monologue, learning about and exploring clear objectives and actions, as well as what to expect during the audition process. Each Student will be led through a series of techniques in order to bring a piece of text to life without a scene partner.Students will learn basic text analysis of the entire play from which the monologue has originated.
Three Sessions:
Monologue Selection, Extended Workshop and a Mock Audition in which students will learn what it means when professionals say "the audition begins the minute you walk through the door and doesn't end until you leave."
Fee:  $200 per session.
Performance Styles
A course designed to introduce students to various acting styles (performance art, absurdist, period movement, etc.) outside of conventional realism.
(1-4 Weeks)
      Fee:  $350 per week.
Production Assistance
The teaching artist will provide support on a school-sponsored production. Support includes workshops, general production help, or the direction of the production.
1-8 Weeks|
Fee:  $250 per week.
Viewpoints
An in-depth exploration of the acting/ensemble methods popularized by Anne Bogart and the SITI Company, with classes covering character creation and ensemble work.
(1-2 Weeks)
Fee:  $350 per week
Viola Spolin Improvisation Workshop
Viola Spolin is the internationally recognized originator of Theater Games – the basis of improvisational theater. Along with her son, Paul Sills, Viola Spolin created the techniques utilized by the cast of Chicago's Second City as well as every other improvisational comedy troupe ever since.  From Chicago's settlement houses to the Young Actor's Company, the Compass Players, Second City as well as in thousands of institutions of education and healing throughout the world Viola Spolin taught us to play and to discover our creative potential. Spolin has introduced her work not only to students and professionals in theater, but to elementary and secondary education, schools for gifted and talented programs, curriculum studies in English, religion, mental health, psychology, and in centers for the rehabilitation of delinquent children.
Spolin's Theater Games are simple, operational structures that are each built upon a specific focus or technical problem.
The games have a liberating effect for the players.
The first rule of improvisation is "yes, and," meaning that anyone's contribution to the group discussion is accepted without judgment.
1-8 Weeks
Fee:  $350 per week.
If you would like to bring Burning Coal's WillPower! program to your school, contact us at 919.834.4001 or email us at coalartisticdir@ncrrbiz.com