---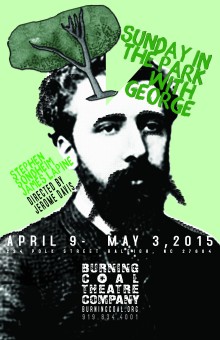 Apr 9 – May 3, 2015
Written by Stephen Sondheim & James Lapine
Directed by Jerome Davis
Stephen Sondheim and James Lapine's masterpiece about the painter Georges Seurat and his obsessive quest to create the painting that would define his life, his city, and his time.  The second act then moves forward in time to look at George's great grandson and his own fight to make art in a world where beauty often takes a backseat to commerce.  This remarkable work remains one of only three American musicals ever to win the Pulitzer Prize for drama.  Includes the timeless Sondheim classics Finishing the Hat, Putting it Together, Children and Art and Move On.
---
Saturday, March 21, 2015
at 7pm
Tickets are $175 apiece
or $300 per couple. 
To purchase your tickets CLICK HERE
or please call 919.834.4001 or mail us your check today at:
Burning Coal Theatre
224 Polk Street
Raleigh, NC 27604
Burning Coal Theatre Company's Annual Fundraiser
Magnificent morsels and intimate vignettes from the world of musical theatre to benefit Burning Coal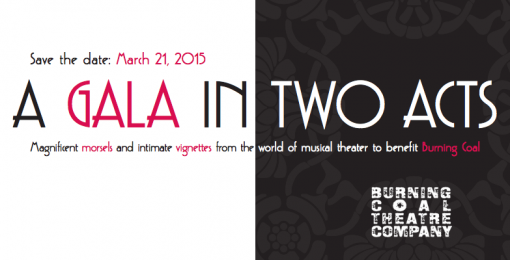 ---
Spring, 2015 Main Stage Shows
Second Stage Shows (three 1-hour, 1-person shows on alternating nights June 11 – 28, 2015)