---
Apr 15 – Apr 22, 2018
Deposit of $700 deposit
Due on December 01, 2017
Remainder of $2,250
Due on February 01, 2018
To join us for London 2018, just give us a ring at 919.834.4001.
Children under 17 must be accompanied by adult or guardian.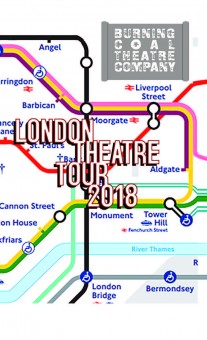 Join Burning Coal Theatre Company for its London Theatre Tour 2018.  The tour is always the highlight of our year, as we and a group of our best friends journey "across the pond" to see six incredible plays at some of the hottest and most influential theatres in the great theatre city of London, England.
Tour, led by artistic director Jerry Davis, includes:  6 plays in 6 days, nonstop flight from RDU to Heathrow, bus to/from Heathrow, a weekly Tube Pass, accommodations (double occupancy) at one of the loveliest hotels in central London, breakfast each morning, tickets to see six incredible productions at some of London's most renown and historic theatres, and six other events TBA that take you to some of the out of the way spots around London to see, hear, smell and eat your way to a jolly good time! Each morning begins with a talk by our Artistic Director, Jerry Davis, about what you will be seeing that night  and interesting information about the theatre, the artists and the play that you'll be seeing.