---
Main Stage Shows
Second Stage Shows
---
Theatre to receive $37,500 matching grant to support production of three plays by Tony Award-winning playwright David Edgar
Burning Coal Theatre Company announced today that A.J. Fletcher Foundation has awarded the Raleigh-based professional theatre a $37,500 matching grant in support of its upcoming production of The Iron Curtain Trilogy by the British playwright David Edgar. The Trilogy will be performed in repertory from September 4 – 27, 2014 and then moved to London's Cockpit Theatre for a three week run November 13 – 30, 2014. These performances will be the first ever of this powerful trilogy. 
Burning Coal will collaborate with the Wake County Public School System in creating a history curriculum for its students. Included will be a workshop with the Tony Award-winning playwright, the creation of a comprehensive study guide, and an interactive website created in partnership with UNC-Chapel Hill's Department of European Studies and their continuing education series, Adventures in Learning. Read More »
---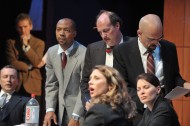 Saturday, September 6, 2014
9:15 a.m. to 4:00 p.m.
Presented by UNC-Chapel Hill's Humanities Program and Burning Coal Theatre Company
The Cold War's abrupt end left observers pondering the meaning of this nearly fifty-year era in world history. Those in the Eastern Bloc especially were forced to contend with the dizzying onset of capitalist markets and Western culture, and the resurfacing of old ethnic hatreds. This seminar will examine life for Eastern and Central Europeans during the Cold War—from their aesthetic choices to their political realities—and the unique challenges posed by the collapse of the communist system. Three lectures and a panel discussion will provide historical and cultural context for Burning Coal Theatre's production of acclaimed British playwright (and seminar speaker) David Edgar's Iron Curtain trilogy of plays. Attendees will have the option to purchase reduced price tickets for all three plays. Read More »