---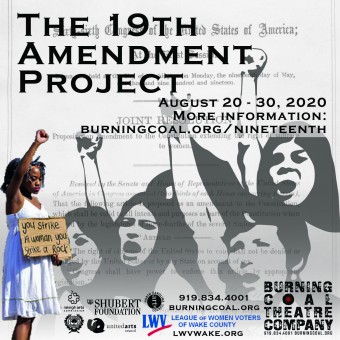 Burning Coal Theatre is pleased to present The 19th Amendment Project, a collection of short plays written by some of the most accomplished women and/or non-binary playwrights working today, writing on the passage of the 19th Amendment 100 years ago and its ongoing impact.  Each of the 14 plays will be released virtually, one at a time, between August Aug 17 – 30.  Tickets to view each 10 minute play will be $2 and will be available from the day each play is released through the end of September, 2020.
The playwrights expected to participate include Clare Bayley, Hannah Benitez, Susana Cook, Kelly Doyle, Jennifer Natalya Fink, Magdalena Gomez, Tamara Kissane, Carrie Knowles, Deb Margolin, Ruth Margraff, Kate R. Morris, MJ Perrin, Elaine Romero, Prageeta Sharma and Ariel Zetina.
 Our production partner is The League of Women Voters of Wake County

---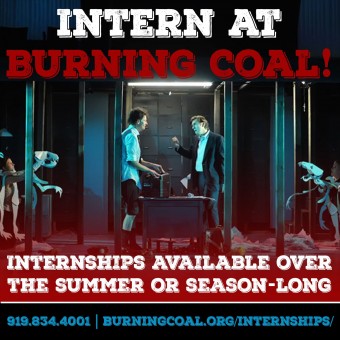 Burning Coal Theatre Company can create internships in arts administration, technical theatre, acting, directing, stage managing or a combination of the above.  Those interested in working as an intern with Burning Coal should forward an email indicating your area of interest, availability (dates and times of day), and a resume.  We will call you to set up an interview. Internships are not paid, though housing may be available. Our email address is coalartisticdir@ncrrbiz.com.
Acting, directing and stage management internships primarily take place during the season (Sept – May). Arts Management and technical theatre internships are available over the summer or throughout the year. Read More »
---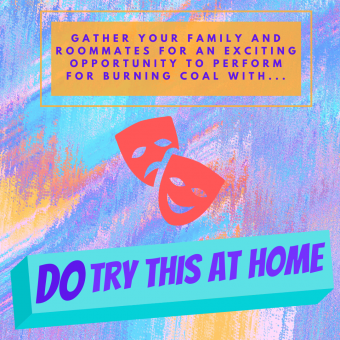 Your home is the stage and your family are the stars of the show in this virtual play creation program! This free summer program seeks families – chosen or given – for a collaborative process and performance. As a participant, you'll receive a unique short play inspired by your stories and imagination, written by a professional playwright. Together, we'll make a live streamed performance with and for friends and neighbors. Learn more and apply here by July 15th: https://forms.gle/BdpdCL2QRfzetuyaA