---
Jan 31, 2015
Lecture by Matthew Lubin & Ian Finley
Join Burning Coal for a pre-show discussion with two scholars in the field, Matthew Lubin (Duke) and Ian Finley, Burning Coal's director of education from 2003 to 2011.  Where exactly did our idea of marriage come from?  And how long has it been around?
[Free with ticket to any performance of ROMEO & JULIET ($5 otherwise)]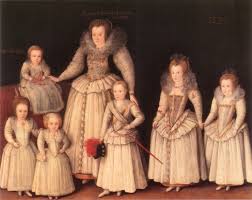 Past Productions & Events
The following shows/events have passed.
---
---
Burning Coal Theatre Company welcomes Andrea F. Bohlman, Ph.D., UNC-CH Assistant Professor of Music for a pre-show discussion entitled Listening to the Place.  This 50 minute discussion is open to anyone with a ticket for any performance of the Iron Curtain Trilogy ($5 for others).  NOTE: This event will take place on Saturday, September 20, 2014 at 12:30 pm at the Iron Curtain Trilogy Warehouse, 117 S. West Street, Raleigh.
---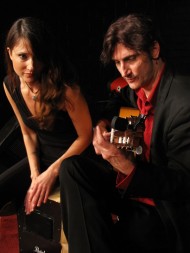 Jun 22, 2014
$10 at the door

Burning Coal welcomes back Ed Stephenson and the Paco Band to our MusiCoal 2014 series. The performance will take place Sunday evening, June 22nd at 7 pm at Burning Coal's Murphey School, 224 Polk Street, Raleigh.  Tickets are $10 and are available at the door. The concert will feature internationally-acclaimed guitarist Ed Stephenson with The Paco Band along with special guest, flamenco dancer Sarah Shelton.
Paco Band Bios
CAT ALBANESE
As a native of Virginia Beach, VA, Cat Albanese got her start playing locally and touring nationally as a percussionist for various indie-label bands. Currently, she is the percussionist for Ed Stephenson and the Paco Band and Bull City Syndicate. Her original songs are showcased in a past project with American Manna entitled "The Story & The Score," available on iTunes. Cat teaches piano at Neighborhood Academy of Music. Her favorite places are the beach and on a stage.
RYAN JOHNSON
Ryan Johnson is a well-known guitarist and musician in the Raleigh area. He is a founding member of Blatant Disarray, a project he continues to perform with. Ryan has composed and recorded for Disney with his music on amusement park ride "Sum of All Thrills" at Epcot in Disney World. Discography: "Esencia" with Ed Stephenson & Inos Flamenca, "The Harbinger" and "Everyone Dies Alone" with Blatant Disarray, and "Gignesthai" with Dreamscapes of the Perverse.
HANNAH NEWBERRY
Born in Raleigh, North Carolina, Hannah Newberry performs with Ed Stephenson and the Paco Band as a bassist, percussionist, singer, and guitarist. In addition to performing in the Paco Band, Newberry is also the singer and guitarist for the experimental punk band, Corporate Herpes, who organize their own shows all over the triangle area. She studies classical music and music theory, allowing her to expand her repertoire and perform with ensembles of various genres.
SARAH SHELTON
After years of fascination and searching for classes, Ms. Shelton began her flamenco studies in Durham, North Carolina with Carlota Santana. Two years later she took her first trip to Seville, Spain to study the art form in its birthplace and focus on flamenco puro- the most traditional, gypsy style. In 2007 she returned to Spain for 8 months to study flamenco intensively. Her teachers include La Farruca, La Faraona, Angelita Vargas, Javier Heredia, and El Oruco in Seville and Cihtli Ocampo of Arte y Pureza in the United States. Ms. Shelton has been teaching and performing in North Carolina for years, in festivals, schools, restaurants, as well as with the North Carolina Opera and more recently with the Paco Band. Though passionate about flamenco dance, Ms. Shelton is a scientist by training with a bachelor's and master's degree in environmental science, and is currently pursuing a doctorate in biomedical engineering.
ED STEPHENSON
Born in Toronto, Raleigh-based guitarist and Liscio recording artist, Ed (Stefanyshyn) Stephenson's virtuosity extends throughout the Spanish and Nuevo Flamenco genres. In addition to performing throughout North America as a soloist and with his Nuevo Flamenco ensemble, the Paco Band, Stephenson has invested locally through performances with The North Carolina Symphony, The North Carolina Theater, The North Carolina Bach Festival, and The North Carolina Guitar Quartet. His extensive repertoire, ranging from classical to contemporary, assumes necessary flexibility, therefore accommodating any event.
Estimated run time: 2 hours.
---
Apr 12, 2014
Lecture by Dr. James A. Grymes
Internationally regarded musicologist Dr. James A. Grymes of Charlotte, NC will speak on Saturday, April 12th at 6 pm about his soon to be published book Violins of Hope.  Tickets are $5 at the door or FREE for anyone holding a ticket to any performance of Burning Coal's The Diary of Anne Frank (April 3 – 27).  The talk will take place at Burning Coal's theatre, 224 Polk Street, Raleigh, NC.  For details, please call 919.834.4001.
James A. Grymes is an internationally respected musicologist, a critically acclaimed author, and a dynamic speaker who has addressed audiences at settings ranging from prestigious academic conferences to significant public venues such as Weill Recital Hall at Carnegie Hall and Merkin Concert Hall in New York City. Dr. Grymes is Professor of Musicology and Interim Chair of the Department of Music at the University of North Carolina at Charlotte 
A leading authority on the Hungarian musician Ernst von Dohnányi, a forgotten hero of the Holocaust resistance who was later falsely accused of Nazi war crimes, Dr. Grymes is currently writing a book titled Violins of Hope.  A stirring testament to the strength of the human spirit and the power of music, Violins of Hope tells the remarkable stories of violins played by Jewish musicians during the Holocaust and the Israeli violinmaker dedicated to bringing these inspirational instruments back to life.  Violins of Hope will be published by HarperCollins in August 2014.
---

Feb 3 – Feb 4, 2014
7:30 pm on Monday
7:30 pm on Tuesday

$10 at the door

Directed by Hellena Schiavo and Ilana Rozin
All proceeds will be donated to Interact of Wake County!
Actress, playwright, and political activist Eve Ensler was talking with a friend who was going through menopause in the 1990s when she was first struck by the way women spoke about their bodies, which she believed was a reflection of how they felt about themselves and their gender. Ensler was inspired to write a series of essays on women, their bodies, and the language they used to communicate about themselves which she adapted into a performance piece she called The Vagina Monologues. Opening at a tiny off-off-Broadway theater, The Vagina Monologues soon became a hit in New York City which spread around the world, becoming an international phenomenon. 
Estimated run time: 2 hours.
---
Dec 14, 2013
Lecture by Pamela Shook
Burning Coal Theatre Company will hold its second "Lobby Lecture" of the 2013/2014 season, "Rise of the Puppets", which will feature Pamela Shook of Blue Moon Puppets speaking on "The Rise of Puppetry as a Popular Art Form", in conjunction with its current production, (Three Man) Tempest by William Shakespeare. The event will take place at 6 pm on Saturday, December 14th, 2013 at Burning Coal Theatre, 224 Polk Street, Raleigh. Tickets are $5 or free to anyone holding a ticket to any performance of (Three Man) Tempest and may be obtained at the door only.
(Three Man) Tempest continues its run at Burning Coal Theatre from December 5 – 22, 2013. 
ABOUT THE PUPPETEER
Pamela Shook began her puppetry career with Atlanta's Piccadilly Puppets in 1988. She found her way into puppetry through children's theatre, and discovered that through this one magical medium, she could develop all her passions: acting, writing, music and visual arts. For six years she performed with Piccadilly while freelancing with other Atlanta theatres and puppet companies, including the Center for Puppetry Arts. In 1994, while performing with Suzy Ferriss at the Henson International Festival of Puppetry in NYC, she decided to start Blue Moon Puppets with her husband, fellow puppeteer Stephen Clifford.
Blue Moon (named during an actual blue moon)has been touring since 1995, performing multicultural and science-based children's shows at festivals, libraries, schools and museums. Pamela and Stephen have appeared at venues from Piccolo Spoleto to the Kennedy Center. Pamela has also created custom puppets for theatres, film and video across the Southeast. This year, she wrote, produced, and created puppets for five puppet shows for Discovery Place museum in Charlotte, and helped train their staff to perform these permanent shows.
---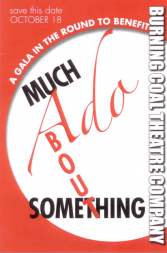 Oct 18, 2013
6:30 pm on Friday

The Capital Club
16 W. Martin Street, Raleigh
Tickets are $175 apiece or $300 per couple
Burning Coal Theatre Company's Inaugural Annual Fundraiser
Event will include food, drink, silent and live auctions, wine tree, live music, dancing, door prizes and dramatic performances from four of Shakespeare's best beloved plays, presented by artists very special to the Burning Coal Theatre community.
Sponsors
---
Oct 2, 2013
7 pm on Wednesday

$5 Suggested Donation

Written by Ian Finley
Up From the Ground is an original play by 2012 Piedmont Laureate Ian Finley about how our heritage, hopes and values are reflected in the food we eat.  Written as part of the Laureate program, Up From the Ground will receive its world-premier reading at Burning Coal Theatre Company on Wednesday, October 2nd, 7:00pm as part of their New Works series.
Inspired by interviews with chefs, journalists and farmers from Wake, Durham, Orange and Alamance counties, Up From the Ground explores the questions of where our food comes from and what it means to cook in the hectic 21st century.  
Up From the Ground was written with the support of the City of Raleigh Arts Commission, United Arts Council of Raleigh & Wake County, Durham Arts Council, Orange County Arts Commission and Alamance County Arts Council.  
ABOUT THE PLAYWRIGHT
Ian Finley holds a BFA degree from the University of Utah, and an MFA in playwriting from New York University.  He worked at Burning Coal Theatre Company as Director of Education from 2004 through 2012.  In 2012, he was named Piedmont Laureate.  He has had plays produced in Utah, New York, Florida, North Carolina and Virginia.  At Burning Coal, he authored 1960 and co-authored Jude the Obscure, Parts 1 & 2.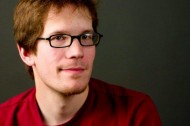 ---
Gregg Gelb and the Second Line Stompers are a NEW band based in the Raleigh area that plays New Orleans Jazz –  sometimes described as Early Jazz, Dixieland or Traditional Jazz.  Each player comes from many years of experience playing in and leading numerous different musical groups in the region, such as: Gregg Gelb Swing Band, Dave Wright and the King Rippers, Atomic Rhythm All Stars, Countdown Quartet, Squirrel Nut Zippers, North Carolina Jazz Repertory Orchestra, North Carolina Symphony, Dick Gable All Stars, and the Heart of Carolina Jazz Orchestra. The group has authentic New Orleans roots through Greg Cagle, our cornetist, who grew up listening to live performances in his house by authentic Traditional Jazz players in New York/New Jersey area and Steve Wing, our pianist, was born in New Orleans where he grew up listening to jazz funeral bands and learned to play piano from his mother, the late composer and producer Lee Wing.
Gregg Gelb, clarinet            
Greg Cagle, cornet and vocals
Dave Wright, trombone and vocals    
Steve Wing, piano and vocals
George Knott , bass            
Dave Albert, drums
---
Cornetist Greg Cagle was born into a family of jazz fans in New Jersey, and was immersed in New Orleans music and lore from birth.  He taught himself to play at 13 after summers of listening to some of the great New Orleans jazzmen jamming in his parents' living room in the early 1950s.  Over the past 40 years he has performed with jazz bands throughout the southeast, toured Germany with the USAir Dixieland Band, promoted jazz concerts and festivals, and lived his childhood dream by performing with the likes of Art Hodes, Al Cohn, Maxine Sullivan, Dick Hyman, Ralph Sutton, Kenny Davern, Wild Bill Davison, Milt Hinton, and Spiegle Willcox.  He has lived in Cary since 1982. 
Steve Wing was born in New Orleans where he grew up listening to brass bands and other Crescent City jazz forms.  He first learned piano from his mother, composer Lee Wing, and later studied with jazz greats Mary Lou Williams and Yusef Salim.  Steve plays jazz as well rhythm and blues, rock, and other musical styles.  He has recorded and performed with vocalists Bus Brown, Melva Houston, and Frankie Alexander.  He lives in Chatham County, NC.
Dave Wright. "I'm a trombone player and a vocalist from Charlotte, NC.  I went to East Mecklenburg High School in Charlotte and East Carolina in Greenville.   I've been in Raleigh since 1992.   Recorded with the Tonebenders in 98, Countdown Quartet in 1999, 2001 and 2003, Squirrel Nut Zippers (Bedlam Ballroom 2000).  Played a long time around Raleigh for weddings, parties, swing dances, bars and clubs.   I'm a big fan of early and current New Orleans music."
George Knott, upright string bass and tuba. George graduated from Broughton High School and East Carolina University and his Raleigh roots go back seven generations.  He leads the Atomic Rhythm All-Stars.
David Saleeba Albert, drums, a native of Noblesville Indiana, started his musical career in Elizabeth City, North Carolina playing Trombone, Flute, Bassoon and Percussion in the High School Band. He attended Berklee College of Music in Boston Mass during which time he was also a studio drummer. He finished his Music Education Degree at East Carolina University in Greenville, NC and became the Conductor of the Band Program in Elizabeth City. Ten years later, he moved to Raleigh, NC, where he was selected to start the Band Program and Chair the Arts Department of Leesville Road High School. Mr. Albert has mentored with Buddy Rich and performed with the Dorsey Brothers Orchestra as well as with Butch Miles, Joe Ascione, Milt Hinton, Don Menza, Buddy Baker, Vincent Herring and Tommy Newsome. Mr. Albert was a student of the "Tonight Show" drummer, Ed Shaughnessy. Dave was a member of the Dick Gable All-stars.
GREGG GELB is a saxophonist, clarinetist, arranger, composer, educator and band leader.  He began the Second Line Stompers this year and loves it! Gregg also is founder and player/director of the Heart of Carolina Jazz Orchestra and Jazz Society, co-founder and player/arranger with the North Carolina Jazz Repertory Orchestra, director of the Triangle Youth Jazz Ensemble, plays and directs his eight-piece Swing Band, his La Fiesta Latin/Jazz Ensembleand performs with an 11-piece jazz group, Quintessence. He is a recipient of a Jazz Composers Award from the North Carolina Arts Council.  He has performed as saxophone soloist with the North Carolina Symphony Orchestra on many occasions. He was a Visiting Artist in the North Carolina Community Colleges and he has taught music in universities and public schools throughout North Carolina. Gregg grew up in New York and moved to NC in 1979 to teach in the Wake County Schools and he now lives in Sanford.
---
Burning Coal Theatre Company will hold its first "Lobby Lecture" of the 2013/2014 season, a panel discussion on the subject of global climate change, in conjunction with its current production, The Heretic by Richard Bean. The event will take place at 6 pm on Saturday, September 21, 2013 at Burning Coal Theatre, 224 Polk Street, Raleigh.  Tickets are $5 or free to anyone holding a ticket to any performance of The Heretic. 
The Heretic continues its run at Burning Coal Theatre Thursdays through Saturdays at 7:30 pm and Sundays at 2 pm. All tickets to The Heretic are $25, $20 for seniors (65+), $15 for students and $15 or everyone on Thursday nights, and may be obtained by calling 919.834.4001 or visiting www.burningcoal.org/the-heretic/.    
ABOUT THE PANEL
Anant Aiyyer is a professor of Atmospheric Science at North Carolina State University. His research areas include weather systems of the tropics (e.g., Hurricanes) and climate variability. He has a PhD from the State University of New York and a Master's degree in Physics from Indian Institute of Technology. He was born in a suburb of New Delhi but now Carrboro, NC is his home.
Liz Kazal is the Field Associate for Environment North Carolina, a statewide, citizen-based, environmental advocacy group. Her primary focus is protecting our clean waters from the threats of the dangerous form of natural gas drilling known as fracking. This summer, she directed Environment North Carolina's citizen outreach efforts and mobilized over 10,000 North Carolinians to take action to promote healthy, sustainable farms. Liz is originally from the Mississippi Gulf Coast and is a graduate of the MS School for Math and Science and Mississippi State University. In college, she was the founder of her campus environmental group and worked to pass the first clean energy student initiative on campus.
Aaron Newman is a student at Duke University studying Environmental Engineering and Cultural Anthropology. As a student and member of the next generation of youth, he has taken on the responsibility of learning how to effectively adapt to and combat climate change through research, speaking to peers, and participating in and leading environmental seminars and projects. In this way, he aims to promote the movement towards minimizing climate change in the coming decades. His greatest interests reside in learning about and collaborating to design environmental solutions that are culturally and economically appropriate for developing countries.
---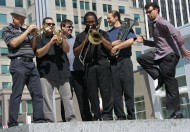 MusiCoal presents a concert by Raleigh-based Children of the Horn (COTH). COTH combines influences from soul jazz, funk, rock, R&B, and world music. With a front-line of horns, COTH performs original compositions that range from super-syncopated funk and Latin to swaggering New Orleans Second Line to classic Motown-inspired grooves. Tickets: $10 tickets available at the door, Murphey School Auditorium, Sunday, August 4, 7pm.
 Audiences of all ages find COTH to be highly entertaining. Their arrangements and skillfully improvised solos have earned the band opportunities to share the stage with artists such as Dirty Dozen Brass Band, P-Funk, and Dr. Lonnie Smith. COTH are North Carolina Arts Council Touring Artists. Known for their regional festival appearances, past engagements includes South Carolina Jazz Festival, Shakori Hills Festival, Centerfest, Cary Lazy Daze, World Beer Festival, Peak Fest, Beaufort Music Festival, and Matthews Alive among others.
Estimated run time: 1.5 hours.