---
Oct 6 – Oct 23, 2016
Written by David Hare
Directed by John Gulley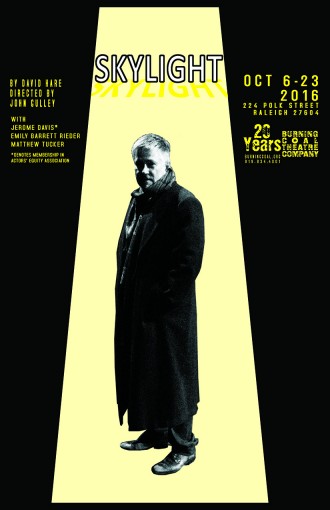 Tom is a middle-aged businessman at the top of his game.  Confident, cocky, ready to take on the world.  Kyra is a young woman living in the low rent district, teaching low-income students who could care less.  Years after an impassioned, turbulent affair, Tom crashes back into Kyra's life.  His wife has died, and he wants Kyra back.
"You can't help thinking that on some profound level these two were made to be together."
- Ben Brantley, New York Times
Estimated run time: 2 hours.
WATCH THE TRAILER HERE:  https://youtu.be/GSPeSjEkmpw
---
Rode Hard the Band will rock the Murphey School on Sunday, September 18, from 2 to 4 pm. as Burning Coal celebrates the start of its 20th anniversary season. Come for great music in a great venue and celebrate with us! Tickets are free to 2016/2017 season subscribers or $10 general admission.  All proceeds will go to Burning Coal's roof-replacement fund. Click here to subscribe. Or call the theatre at 919-834-4001 to purchase tickets to the kickoff. 
Rode Hard the Band is so named because its members are, as they say, "men of a certain age." Read more about them here.
---
Oct 9, 2016
$10 available at the door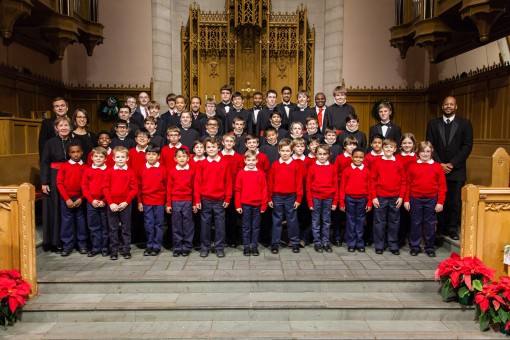 The Raleigh Boychoir 
It started with just 20 boys and a $50 donation from the Woman's Club of Raleigh. But humble beginnings never daunted The Raleigh Boychoir's vision.  Thomas E. Sibley founded the choir in 1968 to give boys with unchanged voices a chance to learn and perform some of the world's greatest choral music. Sibley believed a choir could help boys develop talent and character – traits that would serve them for a lifetime. Sibley, who worked as music coordinator for the Raleigh public schools as well as organist and choir master at Holy Trinity Lutheran Church in Raleigh, directed The Raleigh Boychoir for 40 years. He retired in 2008.  Read More »
Estimated run time: 1.5 hours.
---
Oct 16, 2016
$10 Available only at the door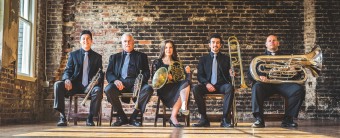 Comprising some of Raleigh's best symphony musicians, freelance performers, and educators, the Boylan Brass are privileged to bring decades of collective experience to every musical activity. If you're already a member of our community, our gratitude to you is immeasurable – and if we haven't yet met, we eagerly welcome you to share our passion for great music.
We've spent years forging our craft in practice and rehearsals with the goal of making music you'll want to hear again and again. Just as every journey begins with a single step, we urge you to begin what we hope will be a fulfilling and lasting musical kinship by sampling a little bit of what we've poured our hearts into.  Additional information at http://www.boylanbrass.com/. Read More »
Estimated run time: 1.5 hours.
https://youtu.be/PyQK_a3AYyA
Past Productions & Events
The following shows/events have passed.
---
---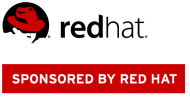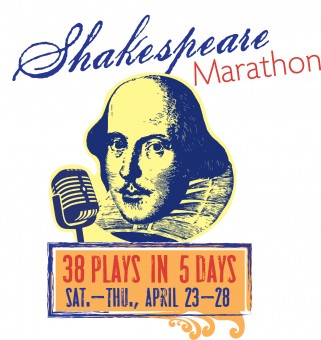 Burning Coal Theatre Company and the NC Museum of History will present a marathon reading of each of William Shakespeare's 38 plays next April to mark the 400th anniversary of the playwright's death. Each play will be read by a different theatre company from North Carolina. The nonstop readings will take five days and will begin at noon on April 23, 2016 until about 6 am on Thursday, April 28, 2016 at the museum, 5 East Edenton Street in downtown Raleigh. The event will be open to the public. Each reading also will be live streamed at https://nsp.performedia.com/rh/ncmh16/session/a1?output=frame and recorded for later viewing thanks to a grant from our friends at Red Hat (read more here). Burning Coal, the professional theatre company based in Raleigh, will produce the marathon. Participating companies are listed below. For additional information, please contact Burning Coal Artistic Director Jerome Davis at 919.834.4001
---
Oct 24, 2015
Lecture by Marci White
Lecture begins at 6:00, Q&A at 6:30
Executive Director of Mental Health America of the Triangle Marci White will give a lecture on the history of the public mental health system in America, the kinds of infrastructural challenges it has faced, and what we can do to support individuals living with mental illness in our own communities. The lecture will begin at 6:00pm with a question and answer session beginning at 6:30. Any ticket holders for ASYLUM are invited to attend the lecture free of charge.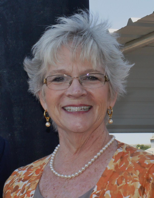 Marci White, MSW has more than 30 years' experience working on behalf of children, adolescents and young adults with serious emotional and behavioral problems in North Carolina's mental health service systems. She has worked for mental health providers, state agencies, and the federal courts in North Carolina; and she has provided consultation and advocacy to develop community and family-based mental health services in other states.
In addition to developing and managing family-based mental health services, Marci has held several roles related to mental health training: developing, supervising, providing and coordinating initial and ongoing training for staff and managers and for therapeutic foster parents about the direct practice and supervision skills needed for the range of community-based mental health/developmental disability services provided through a comprehensive behavioral health agency.
Ms. White was responsible for ensuring that the children identified as the result of North Carolina's Willie M. lawsuit received the services to which they were entitled under the court agreement (1981 – 1998). The lawsuit was a right-to-treatment action for children and adolescents who had severe emotional, neurological, or mental conditions; were violent and aggressive; were or would be in need of residential or other community and family-based treatment and educational/vocational services; and for whom the State had not provided appropriate services. As part of her role, Ms. White supervised and established best practices for services, and monitored service outcomes for residential and community-based programs for youth in foster care, juvenile justice, and mental health systems. After 17 years as a class action lawsuit, the federal court ruled in January 1998, that the State had complied with the consent decree and that federal court jurisdiction was no longer required.
Ms. White has been a Clinical Instructor with the UNC-School of Social Work, serving as Field Faculty for MSW students in their field placements in community human service agencies. She was the Field Seminar leader for Foundation students, addressing topics related to students' experiences in field placement and professional development as social workers. Marci has demonstrated her commitment to individuals and their families living with mental health and substance abuse problems through her expertise, advocacy, education and support. She has worked to instill that same commitment and expertise in students, professionals and volunteers with whom she has worked and brings that to join us at MHAT. Marci received her Bachelor of Arts in English and her Master of Social Work, specializing in direct mental health practice from the University of North Carolina.
---

Burning Coal Theatre Company is very happy to announce that Red Hat, the world's leading provider of open source solutions, has agreed to fund the live streaming and video recording of the upcoming Shakespeare Marathon.  Live Streaming Link can be found here:  https://nsp.performedia.com/rh/ncmh16/session/a1?output=frame
The Red Hat technology grant will fund the contracting of Performedia, Inc. of Washington, DC,  to live stream and record the entire 5 ½ day marathon reading of all 38 of Shakespeare's plays April 23 – 28, 2016 at the North Carolina Museum of History. The marathon commemorates the 400th anniversary of Shakespeare's death.
"Red Hat is proud to support the Shakespeare Marathon," said John Adams, senior director of Global Brand Strategy and Management, Red Hat. "Encouraging community-powered collaboration and building a vital cultural commons resonates with our open source values, and helping Burning Coal with this project seemed a natural fit." Read More »
---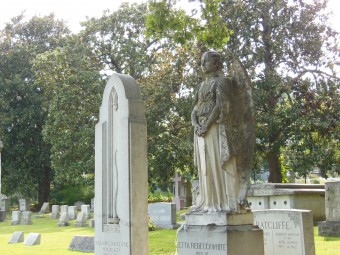 Come see a one-of-a-kind performance at Raleigh's "cemetery full of life!"  Every year, Burning Coal Theatre teams up with Historic Oakwood Cemetery to present an evening of vignettes about notable people who are resting peacefully there.
This year's theme is "Home Again."  To celebrate the release of Oakwood to Oakwood by local historian Bruce Miller, all of the plays focus on people who have lived in the Oakwood neighborhood or were instrumental in making it the special place that it is today.
We are proud to feature local playwrights and actors in this evening about the best (or not!) of the Triangle.  This years featured plays include:
"Vallie's Flowers" by Rebecca Bossen
"Henry Jerome Stockard" by Courtney Pisano
"Mamie and Grace Bates" by Arya Sundaram
"Polite Society" by Brook North
"An Awkward Family Boodle" by Allan Maule
"Ames and Bill" by Jason Tyne-Zimmerman
"Methodist, Episcopal, Baptist Jew" by Jorie Slodki
May 20-22, 2016
6:30 pm Friday and Saturday, 2 pm Sunday
Tickets $20 for adults, $10 for students, available at the Oakwood Cemetery on the date of the performance.
 701 Oakwood Ave, Raleigh, NC Read More »
---
Burning Coal Theatre Company welcomes Andrea F. Bohlman, Ph.D., UNC-CH Assistant Professor of Music for a pre-show discussion entitled Listening to the Place.  This 50 minute discussion is open to anyone with a ticket for any performance of the Iron Curtain Trilogy ($5 for others).  NOTE: This event will take place on Saturday, September 20, 2014 at 12:30 pm at the Iron Curtain Trilogy Warehouse, 117 S. West Street, Raleigh.
---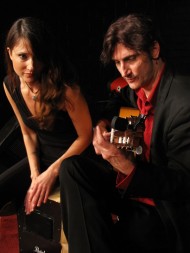 Jun 22, 2014
$10 at the door

Burning Coal welcomes back Ed Stephenson and the Paco Band to our MusiCoal 2014 series. The performance will take place Sunday evening, June 22nd at 7 pm at Burning Coal's Murphey School, 224 Polk Street, Raleigh.  Tickets are $10 and are available at the door. The concert will feature internationally-acclaimed guitarist Ed Stephenson with The Paco Band along with special guest, flamenco dancer Sarah Shelton.
Estimated run time: 2 hours.