---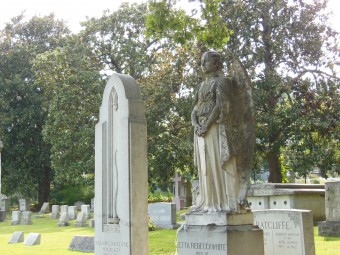 Come see a one-of-a-kind performance at Raleigh's "cemetery full of life!"  Every year, Burning Coal Theatre teams up with Historic Oakwood Cemetery to present an evening of vignettes about notable people who are resting peacefully there.
This year's theme is "Home Again."  To celebrate the release of Oakwood to Oakwood by local historian Bruce Miller, all of the plays focus on people who have lived in the Oakwood neighborhood or were instrumental in making it the special place that it is today.
We are proud to feature local playwrights and actors in this evening about the best (or not!) of the Triangle.  This years featured plays include:
"Vallie's Flowers" by Rebecca Bossen
"Henry Jerome Stockard" by Courtney Pisano
"Mamie and Grace Bates" by Arya Sundaram
"Polite Society" by Brook North
"An Awkward Family Boodle" by Allan Maule
"Ames and Bill" by Jason Tyne-Zimmerman
"Methodist, Episcopal, Baptist Jew" by Jorie Slodki
May 20-22, 2016
6:30 pm Friday and Saturday, 2 pm Sunday
Tickets $20 for adults, $10 for students, available at the Oakwood Cemetery on the date of the performance.
 701 Oakwood Ave, Raleigh, NC Read More »
Past Productions & Events
The following shows/events have passed.
---