---
WEDNESDAY, FEBRUARY 11, 2015 at 7 pm.  On Her Chemise is an original play by Derek Davidson (ph.D., University of Washington), who currently teaches Playwriting, Script Analysis and Early Theatre History at Appalachian State University. He and his wife, Karen Sabo, are co-founders of In/Visible, a professional theatre company based in Boone, North Carolina.
On Her Chemise will receive a staged reading at Burning Coal Theatre Company on Wednesday, February 11th, 7:00pm as part of their New Works series. Read More »
---
Jan 31, 2015
Lecture by Matthew Lubin & Ian Finley
Join Burning Coal for a pre-show discussion with two scholars in the field, Matthew Lubin (Duke) and Ian Finley, Burning Coal's director of education from 2003 to 2011.  Where exactly did our idea of marriage come from?  And how long has it been around?
Matthew Lubin (Duke University History Department) will speak about how scholars think marriage and family feuds actually worked in late medieval Verona, the setting for Romeo and Juliet.
Ian Finley (Piedmont Laureate, 2012) will explore Shakespeare's use of rhetoric and how it reveals the marital tensions and family dynamics of the play.
[Free with ticket to any performance of ROMEO & JULIET ($5 otherwise)]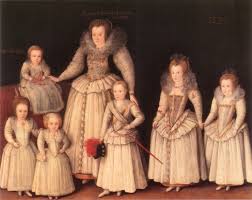 ---
Saturday, March 21, 2015
at 7pm
Tickets are $175 apiece
or $300 per couple. 
To purchase your tickets CLICK HERE
or please call 919.834.4001 or mail us your check today at:
Burning Coal Theatre
224 Polk Street
Raleigh, NC 27604
Burning Coal Theatre Company's Annual Fundraiser
Magnificent morsels and intimate vignettes from the world of musical theatre to benefit Burning Coal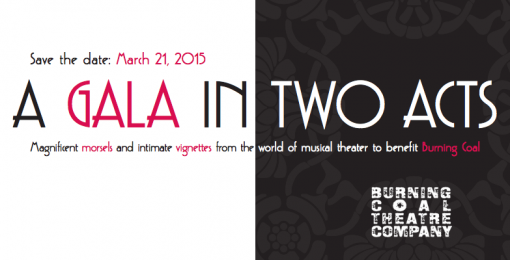 Past Productions & Events
The following shows/events have passed.
---
---
Burning Coal Theatre Company welcomes Andrea F. Bohlman, Ph.D., UNC-CH Assistant Professor of Music for a pre-show discussion entitled Listening to the Place.  This 50 minute discussion is open to anyone with a ticket for any performance of the Iron Curtain Trilogy ($5 for others).  NOTE: This event will take place on Saturday, September 20, 2014 at 12:30 pm at the Iron Curtain Trilogy Warehouse, 117 S. West Street, Raleigh.
---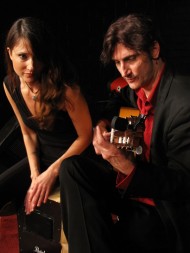 Jun 22, 2014
$10 at the door

Burning Coal welcomes back Ed Stephenson and the Paco Band to our MusiCoal 2014 series. The performance will take place Sunday evening, June 22nd at 7 pm at Burning Coal's Murphey School, 224 Polk Street, Raleigh.  Tickets are $10 and are available at the door. The concert will feature internationally-acclaimed guitarist Ed Stephenson with The Paco Band along with special guest, flamenco dancer Sarah Shelton.
Estimated run time: 2 hours.
---
Apr 12, 2014
Lecture by Dr. James A. Grymes
Internationally regarded musicologist Dr. James A. Grymes of Charlotte, NC will speak on Saturday, April 12th at 6 pm about his soon to be published book Violins of Hope.  Tickets are $5 at the door or FREE for anyone holding a ticket to any performance of Burning Coal's The Diary of Anne Frank (April 3 – 27).  The talk will take place at Burning Coal's theatre, 224 Polk Street, Raleigh, NC.  For details, please call 919.834.4001.
James A. Grymes is an internationally respected musicologist, a critically acclaimed author, and a dynamic speaker who has addressed audiences at settings ranging from prestigious academic conferences to significant public venues such as Weill Recital Hall at Carnegie Hall and Merkin Concert Hall in New York City. Dr. Grymes is Professor of Musicology and Interim Chair of the Department of Music at the University of North Carolina at Charlotte 
A leading authority on the Hungarian musician Ernst von Dohnányi, a forgotten hero of the Holocaust resistance who was later falsely accused of Nazi war crimes, Dr. Grymes is currently writing a book titled Violins of Hope.  A stirring testament to the strength of the human spirit and the power of music, Violins of Hope tells the remarkable stories of violins played by Jewish musicians during the Holocaust and the Israeli violinmaker dedicated to bringing these inspirational instruments back to life.  Violins of Hope will be published by HarperCollins in August 2014.
---

Feb 3 – Feb 4, 2014
7:30 pm on Monday
7:30 pm on Tuesday

$10 at the door

Directed by Hellena Schiavo and Ilana Rozin
All proceeds will be donated to Interact of Wake County!
Actress, playwright, and political activist Eve Ensler was talking with a friend who was going through menopause in the 1990s when she was first struck by the way women spoke about their bodies, which she believed was a reflection of how they felt about themselves and their gender. Ensler was inspired to write a series of essays on women, their bodies, and the language they used to communicate about themselves which she adapted into a performance piece she called The Vagina Monologues. Opening at a tiny off-off-Broadway theater, The Vagina Monologues soon became a hit in New York City which spread around the world, becoming an international phenomenon. 
Estimated run time: 2 hours.
---
Dec 14, 2013
Lecture by Pamela Shook
Burning Coal Theatre Company will hold its second "Lobby Lecture" of the 2013/2014 season, "Rise of the Puppets", which will feature Pamela Shook of Blue Moon Puppets speaking on "The Rise of Puppetry as a Popular Art Form", in conjunction with its current production, (Three Man) Tempest by William Shakespeare. The event will take place at 6 pm on Saturday, December 14th, 2013 at Burning Coal Theatre, 224 Polk Street, Raleigh. Tickets are $5 or free to anyone holding a ticket to any performance of (Three Man) Tempest and may be obtained at the door only.
(Three Man) Tempest continues its run at Burning Coal Theatre from December 5 – 22, 2013. 
ABOUT THE PUPPETEER
Pamela Shook began her puppetry career with Atlanta's Piccadilly Puppets in 1988. She found her way into puppetry through children's theatre, and discovered that through this one magical medium, she could develop all her passions: acting, writing, music and visual arts. For six years she performed with Piccadilly while freelancing with other Atlanta theatres and puppet companies, including the Center for Puppetry Arts. In 1994, while performing with Suzy Ferriss at the Henson International Festival of Puppetry in NYC, she decided to start Blue Moon Puppets with her husband, fellow puppeteer Stephen Clifford.
Blue Moon (named during an actual blue moon)has been touring since 1995, performing multicultural and science-based children's shows at festivals, libraries, schools and museums. Pamela and Stephen have appeared at venues from Piccolo Spoleto to the Kennedy Center. Pamela has also created custom puppets for theatres, film and video across the Southeast. This year, she wrote, produced, and created puppets for five puppet shows for Discovery Place museum in Charlotte, and helped train their staff to perform these permanent shows.
---
Oct 2, 2013
7 pm on Wednesday

$5 Suggested Donation

Written by Ian Finley
Up From the Ground is an original play by 2012 Piedmont Laureate Ian Finley about how our heritage, hopes and values are reflected in the food we eat.  Written as part of the Laureate program, Up From the Ground will receive its world-premier reading at Burning Coal Theatre Company on Wednesday, October 2nd, 7:00pm as part of their New Works series. Read More »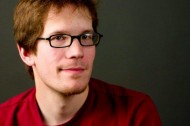 ---
Gregg Gelb and the Second Line Stompers are a NEW band based in the Raleigh area that plays New Orleans Jazz –  sometimes described as Early Jazz, Dixieland or Traditional Jazz.  Each player comes from many years of experience playing in and leading numerous different musical groups in the region, such as: Gregg Gelb Swing Band, Dave Wright and the King Rippers, Atomic Rhythm All Stars, Countdown Quartet, Squirrel Nut Zippers, North Carolina Jazz Repertory Orchestra, North Carolina Symphony, Dick Gable All Stars, and the Heart of Carolina Jazz Orchestra. The group has authentic New Orleans roots through Greg Cagle, our cornetist, who grew up listening to live performances in his house by authentic Traditional Jazz players in New York/New Jersey area and Steve Wing, our pianist, was born in New Orleans where he grew up listening to jazz funeral bands and learned to play piano from his mother, the late composer and producer Lee Wing. Read More »