---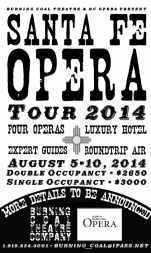 Aug 5 – Aug 10, 2014
$2650 Double Occupancy
$3000 Single Occupancy

Deposit of $700
Due on June 16, 2014
Remainder of remainder
Due on July 15, 2014
Burning Coal Theatre Company's Artistic Director, Jerome Davis, and the NC Opera's General Director, Eric Mitchko, will lead a remarkable 6 day/5 night visit to one of the American cultural gems, the world renowned Santa Fe Opera.  For details or to sign up, call Burning Coal at 919.834.4001 or call Coal's own Hellena Schiavo at 703.508.0091.
Included in the tour:
Four Operas – Fidelio, Carmen, Impresario/Le Rossignol and Don Pasquale
Luxury Hotel
Roundtrip Air
Also, backstage Opera Tour, breakfast daily, wine & cheese reception, docent guided tour of Georgia O'Keeffe museum, guided Tram Tour, and more!
---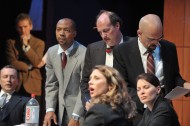 Saturday, September 6, 2014
9:15 a.m. to 4:00 p.m.
Presented by UNC-Chapel Hill's Humanities Program and Burning Coal Theatre Company
The Cold War's abrupt end left observers pondering the meaning of this nearly fifty-year era in world history. Those in the Eastern Bloc especially were forced to contend with the dizzying onset of capitalist markets and Western culture, and the resurfacing of old ethnic hatreds. This seminar will examine life for Eastern and Central Europeans during the Cold War—from their aesthetic choices to their political realities—and the unique challenges posed by the collapse of the communist system. Three lectures and a panel discussion will provide historical and cultural context for Burning Coal Theatre's production of acclaimed British playwright (and seminar speaker) David Edgar's Iron Curtain trilogy of plays. Attendees will have the option to purchase reduced price tickets for all three plays. Read More »
---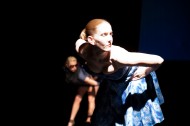 November 6-9, 2014
7:30 p.m. on 11/6 - 11/8
2:oo p.m. on 11/9
$10 at the door
Burning Coal Theatre Company and NC State Dance Program will present State of Dance, the world premieres of six new short dance pieces created by six of the most exciting young, emergent dance makers in North Carolina November 6 – 9, 2014  The works will premiere at Burning Coal Theatre's Murphey School Auditorium, Thursday, Friday and Saturday, November 6 – 8 at 7:30pm and Sunday, November 9th at 2:00pm.  All tickets are $10 and are available at the door. Read More »
Past Productions & Events
The following shows/events have passed.
---
---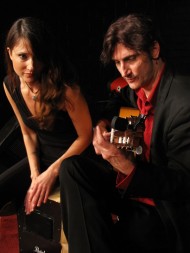 Jun 22, 2014
$10 at the door

Burning Coal welcomes back Ed Stephenson and the Paco Band to our MusiCoal 2014 series. The performance will take place Sunday evening, June 22nd at 7 pm at Burning Coal's Murphey School, 224 Polk Street, Raleigh.  Tickets are $10 and are available at the door. The concert will feature internationally-acclaimed guitarist Ed Stephenson with The Paco Band along with special guest, flamenco dancer Sarah Shelton.
Estimated run time: 2 hours.
---
Apr 12, 2014
Lecture by Dr. James A. Grymes
Internationally regarded musicologist Dr. James A. Grymes of Charlotte, NC will speak on Saturday, April 12th at 6 pm about his soon to be published book Violins of Hope.  Tickets are $5 at the door or FREE for anyone holding a ticket to any performance of Burning Coal's The Diary of Anne Frank (April 3 – 27).  The talk will take place at Burning Coal's theatre, 224 Polk Street, Raleigh, NC.  For details, please call 919.834.4001.
James A. Grymes is an internationally respected musicologist, a critically acclaimed author, and a dynamic speaker who has addressed audiences at settings ranging from prestigious academic conferences to significant public venues such as Weill Recital Hall at Carnegie Hall and Merkin Concert Hall in New York City. Dr. Grymes is Professor of Musicology and Interim Chair of the Department of Music at the University of North Carolina at Charlotte 
A leading authority on the Hungarian musician Ernst von Dohnányi, a forgotten hero of the Holocaust resistance who was later falsely accused of Nazi war crimes, Dr. Grymes is currently writing a book titled Violins of Hope.  A stirring testament to the strength of the human spirit and the power of music, Violins of Hope tells the remarkable stories of violins played by Jewish musicians during the Holocaust and the Israeli violinmaker dedicated to bringing these inspirational instruments back to life.  Violins of Hope will be published by HarperCollins in August 2014.
---

Feb 3 – Feb 4, 2014
7:30 pm on Monday
7:30 pm on Tuesday

$10 at the door

Directed by Hellena Schiavo and Ilana Rozin
All proceeds will be donated to Interact of Wake County!
Actress, playwright, and political activist Eve Ensler was talking with a friend who was going through menopause in the 1990s when she was first struck by the way women spoke about their bodies, which she believed was a reflection of how they felt about themselves and their gender. Ensler was inspired to write a series of essays on women, their bodies, and the language they used to communicate about themselves which she adapted into a performance piece she called The Vagina Monologues. Opening at a tiny off-off-Broadway theater, The Vagina Monologues soon became a hit in New York City which spread around the world, becoming an international phenomenon. 
Estimated run time: 2 hours.
---
Dec 14, 2013
Lecture by Pamela Shook
Burning Coal Theatre Company will hold its second "Lobby Lecture" of the 2013/2014 season, "Rise of the Puppets", which will feature Pamela Shook of Blue Moon Puppets speaking on "The Rise of Puppetry as a Popular Art Form", in conjunction with its current production, (Three Man) Tempest by William Shakespeare. The event will take place at 6 pm on Saturday, December 14th, 2013 at Burning Coal Theatre, 224 Polk Street, Raleigh. Tickets are $5 or free to anyone holding a ticket to any performance of (Three Man) Tempest and may be obtained at the door only.
(Three Man) Tempest continues its run at Burning Coal Theatre from December 5 – 22, 2013. 
ABOUT THE PUPPETEER
Pamela Shook began her puppetry career with Atlanta's Piccadilly Puppets in 1988. She found her way into puppetry through children's theatre, and discovered that through this one magical medium, she could develop all her passions: acting, writing, music and visual arts. For six years she performed with Piccadilly while freelancing with other Atlanta theatres and puppet companies, including the Center for Puppetry Arts. In 1994, while performing with Suzy Ferriss at the Henson International Festival of Puppetry in NYC, she decided to start Blue Moon Puppets with her husband, fellow puppeteer Stephen Clifford.
Blue Moon (named during an actual blue moon)has been touring since 1995, performing multicultural and science-based children's shows at festivals, libraries, schools and museums. Pamela and Stephen have appeared at venues from Piccolo Spoleto to the Kennedy Center. Pamela has also created custom puppets for theatres, film and video across the Southeast. This year, she wrote, produced, and created puppets for five puppet shows for Discovery Place museum in Charlotte, and helped train their staff to perform these permanent shows.
---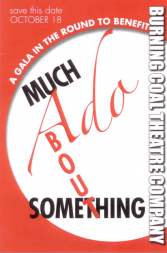 Oct 18, 2013
6:30 pm on Friday

The Capital Club
16 W. Martin Street, Raleigh
Tickets are $175 apiece or $300 per couple
Burning Coal Theatre Company's Inaugural Annual Fundraiser
Event will include food, drink, silent and live auctions, wine tree, live music, dancing, door prizes and dramatic performances from four of Shakespeare's best beloved plays, presented by artists very special to the Burning Coal Theatre community.
---
Oct 2, 2013
7 pm on Wednesday

$5 Suggested Donation

Written by Ian Finley
Up From the Ground is an original play by 2012 Piedmont Laureate Ian Finley about how our heritage, hopes and values are reflected in the food we eat.  Written as part of the Laureate program, Up From the Ground will receive its world-premier reading at Burning Coal Theatre Company on Wednesday, October 2nd, 7:00pm as part of their New Works series. Read More »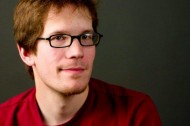 ---
Gregg Gelb and the Second Line Stompers are a NEW band based in the Raleigh area that plays New Orleans Jazz –  sometimes described as Early Jazz, Dixieland or Traditional Jazz.  Each player comes from many years of experience playing in and leading numerous different musical groups in the region, such as: Gregg Gelb Swing Band, Dave Wright and the King Rippers, Atomic Rhythm All Stars, Countdown Quartet, Squirrel Nut Zippers, North Carolina Jazz Repertory Orchestra, North Carolina Symphony, Dick Gable All Stars, and the Heart of Carolina Jazz Orchestra. The group has authentic New Orleans roots through Greg Cagle, our cornetist, who grew up listening to live performances in his house by authentic Traditional Jazz players in New York/New Jersey area and Steve Wing, our pianist, was born in New Orleans where he grew up listening to jazz funeral bands and learned to play piano from his mother, the late composer and producer Lee Wing. Read More »
---
Burning Coal Theatre Company will hold its first "Lobby Lecture" of the 2013/2014 season, a panel discussion on the subject of global climate change, in conjunction with its current production, The Heretic by Richard Bean. The event will take place at 6 pm on Saturday, September 21, 2013 at Burning Coal Theatre, 224 Polk Street, Raleigh.  Tickets are $5 or free to anyone holding a ticket to any performance of The Heretic.  Read More »
---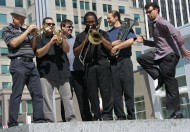 MusiCoal presents a concert by Raleigh-based Children of the Horn (COTH). COTH combines influences from soul jazz, funk, rock, R&B, and world music. With a front-line of horns, COTH performs original compositions that range from super-syncopated funk and Latin to swaggering New Orleans Second Line to classic Motown-inspired grooves. Tickets: $10 tickets available at the door, Murphey School Auditorium, Sunday, August 4, 7pm. Read More »
Estimated run time: 1.5 hours.