---
Apr 21 – Apr 28, 2019
2950 Double Occupancy

Deposit of 700.00
Due on December 01, 2018
Remainder of 2250,00
Due on January 31, 2019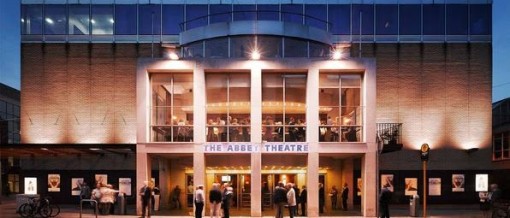 We at Burning Coal Theatre Company are excited to announce that our 2019 Dublin Theatre Tour is GO! 
The tour will take place from April 21st – April 28th, 2019 and will include:
- Air Fare to and from Dublin and RDU
- A chartered bus to and from the hotel and airport 
- A weekly transportation pass 
- A room (double occupancy) in a hotel near city center for 6 nights, including free Wi-Fi and breakfast (with group discussion each morning)
- Tickets to 6 plays in the evenings at theatres such as:
The Abbey Theatre, Gate Theatre, Gaiety Theatre, Rough Magic Theatre, Olympia Theatre and the Bord Gais Theatre
5 additional events during the day, such as:
- A backstage theatre tour (likely at the Abbey Theatre).
- An after show talkback (likely at the Gate Theatre).
- A guided museum tour.
- A guided tour of Christ Church Cathedral.
- A guided tour of Trinity College, featuring the Book of Kells.
- A guided day trip to exciting and beautiful sites outside of Dublin.
- 1 day off for personal exploration of Dublin.
- And last but not least: the legendary Burning Coal Theatre Tour T-Shirt!
Sign Up Today!
The price for our Dublin Theatre Tour is $2,950.00. 
If you do your own airfare, deduct $700
If you want a single room, add $600 Read More »
---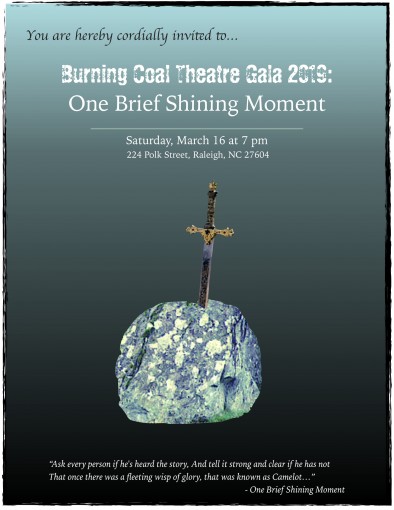 ONE BRIEF SHINING MOMENT
The Burning Coal Gala 2019
SAVE THE DATE! – March 16, 2019 from 7 to 9 pm
$75
Cocktail Attire
HONORARY CHAIRS
Greg Paul & Mary Hart Paul
GALA CO-CHAIRS
Slee Arnold & Ken Spry
Georgia & Alec Donaldson
HOST COMMITTEE
Anne & Matt Bullard
Jackson Cooper
Mike Davis & Alice Garland
Gene & Benji Jones
Ken & Mary Lyn Kargman
Liz King & Blaine Gerber
Meredith Nelson & Keith Donahue
Francine & Ralph Roberson
Robert & Connie Shertz
John Sarratt & Cindy Wittmer
Tickets ON SALE NOW.  Click here to purchase.  Information:  919.834.4001.
SPONSORS
Wyrick Robbins Yates & Ponton LLP
Morningstar Law Group 
MEDIA SPONSOR
Downtown Raleigh Alliance
Triangle Downtowner Magazine


IN-KIND SPONSORS
Durham Hotel
Syngery Spa
Mark Hewitt Pottery
Poppyseed Market
Petale Florist
Durham Distillery
Wine Feed
Picnic
Flying Biscuit
Raleigh Wine Shop
The Station
Yellow Dog Cafe
Escazu Chocolate
Raleigh Rum Company
NOFO
The Pharmacy Cafe
Aviator Brewing Co.
Carolina Brewing Company
Trophy
Lonerider
---
Mar 20 – Mar 21, 2020
TICKETS $35 apiece, or use the discount code EARLYBIRD to get two tickets for $40 through February 9, 2020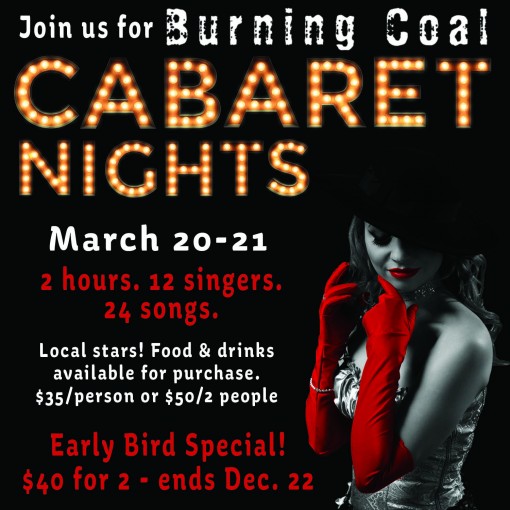 Burning Coal's spring cabaret will feature performances by some of your favorite area stage performers.  Tickets are $35 apiece or 2 for $40 (only through February 9 with the passcode EARLYBIRD).  The evening will include a cash bar and an extraordinary evening of performers giving their all in tangy renditions of some of your favorite Broadway showtunes!
Performances by
Benaiah Barnes
Christy Connell
MeMe Cowans
Shane de Leon
Alec Donaldson
Juan Isler
Lee Jean
Carly Jones
Danielle Long
Natalie Reder
Tyanna West
Estimated run time: 2 hours.
---
Jan 13 – Feb 10, 2020
7 pm – 10 pm on Monday

Taught by Bryan Pridgen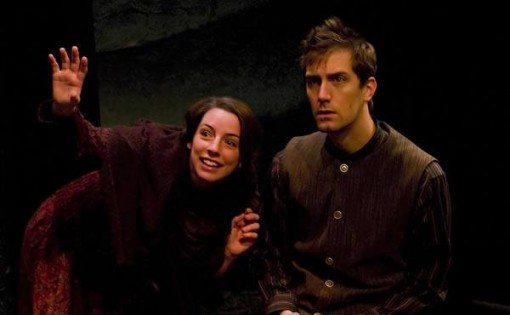 Get impulsive during Burning Coal's 5-week spring improv class led by Bryan Pridgen, BCT's Education Director.  Improv teaches us to play and to discover our creative potential. This comprehensive class breaks down large concepts into simple exercises that are built upon the foundation of improv: "Yes, and …."   Pridgen has been studying and performing improv for over a decade with troupes at Barter Theatre and Savannah Stage Company. This class is great for building confidence, trust and patience through improved ensemble work.  Be prepared to fail, solve problems, create imaginative worlds and bravely pull yourself out of your comfort zone.  Learn to follow your impulses and push yourself to think critically and creatively through improvised scenes and scenarios imagined on the spot.  Eliminate self-doubt and fear of failure by failing bigger!   FEE:  $145.
NOTE: Class will alternate between Burning Coal Theatre (224 Polk Street) and our rehearsal warehouse (3056 Barrow Drive).  Check with instructor for specific details as class proceeds.
---
Sep 8, 2019
2 pm on Sunday

Written by Carol Torian
Directed by Terra Hodge
Free with suggested $5 donation at the door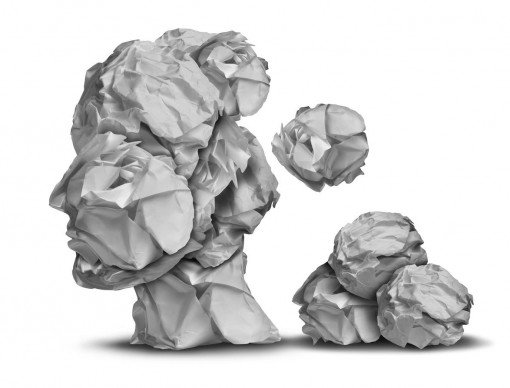 Burning Coal Theatre's New Works series (The Coal Mines) joins forces with Sips & Scripts to jointly present a staged reading of "The Waning Hours", written By Triangle based playwright, Carol Torian and directed by Terra Hodge ("Caroline, Or Change").  This new play features an all-African American cast and tells the story of Lorna Bray Tucker, a former singer and amateur photographer who is losing her grip on reality as her Alzheimer's disease worsens.
Estimated run time: 1.75 hours.
Past Productions & Events
The following shows/events have passed.
---
---
(Photo by Tiphaine Betscher)
DARK VANILLA JUNGLE by Philip Ridley
Burning Coal Theatre at the Camden Fringe Festival – August 10 – 14, 2016
Cockpit Theatre, London, England
Burning Coal Theatre Company of Raleigh, North Carolina returns to the Cockpit with Philip Ridley's brutal 70 minute "Dark Vanilla Jungle".  
A scalding play about a young woman trying to come to terms with a terrible breach of trust.
In November, 2014, Burning Coal brought over David Edgar's roaring Iron Curtain Trilogy (4-stars, Michael Billington, Guardian).
The company returns with Philip Ridley's quietly devastating masterpiece.
Wednesday 10th to Saturday 13th August – 9:00pm
Sunday 14th August – 8:30pm
All Tickets: £10 at http://tickets.thecockpit.org.uk/Sales/Shows/Dark-Vanilla-Jungle#book

WHAT THE CRITICS SAID:
http://viewsfromthegods.co.uk/dark-vanilla-jungle.shtml
http://www.ayoungertheatre.com/review-dark-vanilla-jungle-the-cockpit/
http://www.londoncitynights.com/2016/08/dark-vanilla-jungle-at-cockpit-thje.html?m=1
http://everything-theatre.co.uk/2016/08/dark-vanilla-jungle-the-cockpit-review.html 
https://youtu.be/aNCtUp9pfsw
---
Oct 9, 2016
$10 available at the door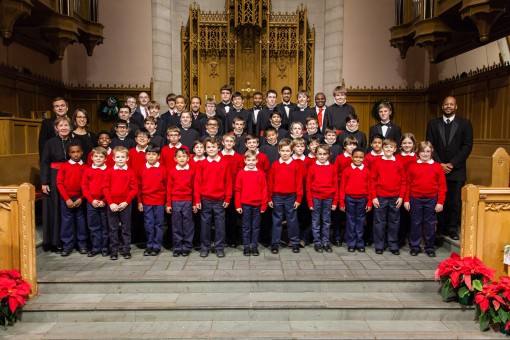 The Raleigh Boychoir 
It started with just 20 boys and a $50 donation from the Woman's Club of Raleigh. But humble beginnings never daunted The Raleigh Boychoir's vision.  Thomas E. Sibley founded the choir in 1968 to give boys with unchanged voices a chance to learn and perform some of the world's greatest choral music. Sibley believed a choir could help boys develop talent and character – traits that would serve them for a lifetime. Sibley, who worked as music coordinator for the Raleigh public schools as well as organist and choir master at Holy Trinity Lutheran Church in Raleigh, directed The Raleigh Boychoir for 40 years. He retired in 2008.  Read More »
Estimated run time: 1.5 hours.
---
6:00 pm, October 15th, 2016
Ticket holders for any production of Skylight are invited free of charge
Reserve your tickets here call 919-834-4001
Burning Coal Theatre Company celebrates 20 years with a panel discussion featuring  three community leaders and long-time company supporters (Simmie Kastner, Greg Paul, Alec Donaldson). Together, they will explore the company's origins, early history and relationship to our current location at the Murphey School, the first Raleigh school to be integrated.  The conversation will highlight connections between our past achievements and vision moving forward.
We invite all of our old flames to reminisce about our shared achievements, and welcome newcomers into the Burning Coal Theatre Company family. Join us on Oct. 15th! Read More »
---
Burning Coal Theatre Company celebrates 20 years with a panel discussion featuring three community leaders and long-time company supporters. Together, they will explore the company's origins, early history and the wonderful history of our home, the Murphey School Auditorium, the first Raleigh school to be integrated. We invite all of our old flames to reminisce about our shared achievements, and to welcome newcomers into the Burning Coal Theatre Company family.
The discussion will be held at the Murphey Theatre, Saturday October 15th from 6pm-6:50 pm, prior to that evenings showing of Skylight by David Hare. Ticket holders for any performance of Skylight are invited free of charge! Reserve your tickets online or call 919-834-4001.
The panel will include SIMMIE KASTNER, GREG PAUL and ALEC DONALDSON.
Panelists:
Alec Donaldson is a corporate and securities lawyer with Wyrick Robbins Yates & Ponton in Raleigh. He has known Jerome Davis and has attended Burning Coal productions since the Theatre's first year of operations. He joined the Burning Coal Board of Directors in January 2014.He has appeared in two Burning Coal productions, Sunday in the Park with George and Spoonface Steinberg, and will appear in its upcoming Written on the Heart.He has loved theater since he saw his first production at age 5. He attended UNC Chapel Hill where he was a member of Playmakers Theater.He has served on the Board of Directors of both the City of Raleigh Arts Commission and the United Arts Council of Raleigh and Wake County.
Simmie Kastner is a Leader of Quality Assurance for Fidelity National Financial and Institutional Wealth Services products.She studied theatre at Northwestern University and received degrees from American University in Painting and Computer Science.She has worked on several productions at Burning Coal, including Rat in the Skull, Love's Labours Lost, Winding the Ball, St. Nicholas, Night and Day, The Weir, Macbeth, Watership Down, A Doll House, The Mound Builders, Company, Road to Mecca, and Travesties.
Greg Paul has performed in 20 Burning Coal productions, most recently in the Iron Curtain Trilogy in London. Greg served on the Burning Coal Board of Directors, including two terms as Chair. His company, Greg Paul Builders, renovated the Murphey School Auditorium in 2007.
We look forward to the opportunity of celebrating Burning Coal's and the community's shared accomplishments and visions for the future. We hope to see you there!
---
Rode Hard the Band will rock the Murphey School on Sunday, September 18, from 2 to 4 pm. as Burning Coal celebrates the start of its 20th anniversary season. Come for great music in a great venue and celebrate with us! Tickets are free to 2016/2017 season subscribers or $10 general admission.  All proceeds will go to Burning Coal's roof-replacement fund. Click here to subscribe. Or call the theatre at 919-834-4001 to purchase tickets to the kickoff. 
Rode Hard the Band is so named because its members are, as they say, "men of a certain age." Read more about them here.