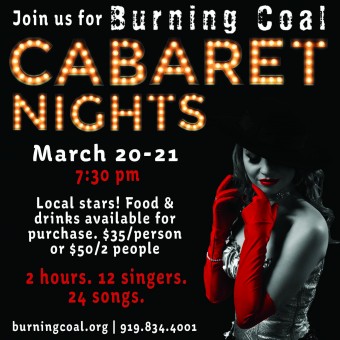 Burning Coal's spring cabaret will feature performances by some of your favorite area stage performers.  Tickets are $35 apiece or 2 for $50 with code COALCABARET).  The evening will include a cash bar and an extraordinary evening of performers giving their all in tangy renditions of some of your favorite Broadway showtunes! 
Sponsorship packages begin at $100, contact development@burningcoal.org for details
Because of the outbreak, we are going to postpone this event until June 27 at 7 pm & 28th at 3 pm.  If you are holding a ticket and want to get a refund, email us at info@burningcoal.org and we'll process that for you.  If you want to attend in June, let us know which date you prefer and your tickets will be shifted over.  If you would like to change your tickets to a tax deductible contribution, let us know that as well.  And lastly, if you haven't bought tickets yet but want to do so for the June dates, CLICK HERE to reserve your tickets now.
Estimated run time: 2 hours.