---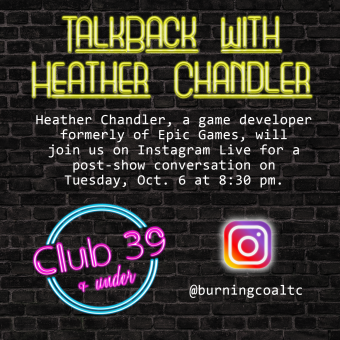 Join us on Instagram Tuesday, Oct. 6th at 8:30 pm to see a live talk back with Heather Chandler after she views a preview of A HUNDRED WORDS FOR SNOW with members of Club 39. During her 23 year career in game development, including 3 years as a Sr. Producer on FORTNITE, she's led teams at Epic Games, Electronic Arts, Ubisoft and Activision. The talk back will involve questions from Club 39 members, highlighting Heather's own journey of self in the STEM field as compared to Rory's in A HUNDRED WORDS FOR SNOW. We'll also discuss one of her latest games, Never Alone, which was made in coordination with the Iñupiaq tribe. See the trailer for Never Alone here: https://www.youtube.com/watch?v=37im5wqDkBg&feature=emb_logo
 "Sign up HERE for the Club 39 monthly newsletter to get exclusive opportunities and sneak peeks!"
CLUB 39 & under is a fresh Burning Coal membership for theatre fans 39 years or younger. For an annual cost of just $39 you get access to exclusive pre- and post-show events, support your local theatre, and get $10 off all full priced tickets. (There's no ID check to join, we'll believe you're the age you say you are.)
---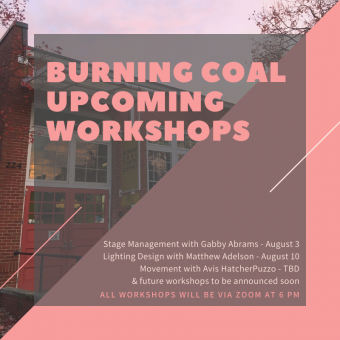 Burning Coal Theatre Company is pleased to announce that it will host a free series of workshops for young and emerging theatre professionals. This series will feature experienced professionals both local and national, and will provide critical, foundational training in subjects like theatrical lighting design, stage management, and movement and choreography. Workshops will be made available to the public via Zoom, and will be held on Mondays at 6:00 PM through October 5, 2020. To register, please email us at info@burningcoal.org. Read More »
Past Productions & Events
The following shows/events have passed.
---
---
(Photo by Tiphaine Betscher)
DARK VANILLA JUNGLE by Philip Ridley
Burning Coal Theatre at the Camden Fringe Festival – August 10 – 14, 2016
Cockpit Theatre, London, England
Burning Coal Theatre Company of Raleigh, North Carolina returns to the Cockpit with Philip Ridley's brutal 70 minute "Dark Vanilla Jungle".  
A scalding play about a young woman trying to come to terms with a terrible breach of trust.
In November, 2014, Burning Coal brought over David Edgar's roaring Iron Curtain Trilogy (4-stars, Michael Billington, Guardian).
The company returns with Philip Ridley's quietly devastating masterpiece.
Wednesday 10th to Saturday 13th August – 9:00pm
Sunday 14th August – 8:30pm
All Tickets: £10 at http://tickets.thecockpit.org.uk/Sales/Shows/Dark-Vanilla-Jungle#book

WHAT THE CRITICS SAID:
http://viewsfromthegods.co.uk/dark-vanilla-jungle.shtml
http://www.ayoungertheatre.com/review-dark-vanilla-jungle-the-cockpit/
http://www.londoncitynights.com/2016/08/dark-vanilla-jungle-at-cockpit-thje.html?m=1
http://everything-theatre.co.uk/2016/08/dark-vanilla-jungle-the-cockpit-review.html 
https://youtu.be/aNCtUp9pfsw
---
Oct 9, 2016
$10 available at the door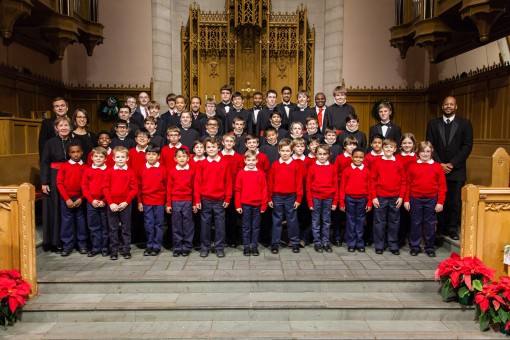 The Raleigh Boychoir 
It started with just 20 boys and a $50 donation from the Woman's Club of Raleigh. But humble beginnings never daunted The Raleigh Boychoir's vision.  Thomas E. Sibley founded the choir in 1968 to give boys with unchanged voices a chance to learn and perform some of the world's greatest choral music. Sibley believed a choir could help boys develop talent and character – traits that would serve them for a lifetime. Sibley, who worked as music coordinator for the Raleigh public schools as well as organist and choir master at Holy Trinity Lutheran Church in Raleigh, directed The Raleigh Boychoir for 40 years. He retired in 2008.  Read More »
Estimated run time: 1.5 hours.
---
Burning Coal Theatre Company celebrates 20 years with a panel discussion featuring three community leaders and long-time company supporters. Together, they will explore the company's origins, early history and the wonderful history of our home, the Murphey School Auditorium, the first Raleigh school to be integrated. We invite all of our old flames to reminisce about our shared achievements, and to welcome newcomers into the Burning Coal Theatre Company family.
The discussion will be held at the Murphey Theatre, Saturday October 15th from 6pm-6:50 pm, prior to that evenings showing of Skylight by David Hare. Ticket holders for any performance of Skylight are invited free of charge! Reserve your tickets online or call 919-834-4001.
The panel will include SIMMIE KASTNER, GREG PAUL and ALEC DONALDSON.
Panelists:
Alec Donaldson is a corporate and securities lawyer with Wyrick Robbins Yates & Ponton in Raleigh. He has known Jerome Davis and has attended Burning Coal productions since the Theatre's first year of operations. He joined the Burning Coal Board of Directors in January 2014.He has appeared in two Burning Coal productions, Sunday in the Park with George and Spoonface Steinberg, and will appear in its upcoming Written on the Heart.He has loved theater since he saw his first production at age 5. He attended UNC Chapel Hill where he was a member of Playmakers Theater.He has served on the Board of Directors of both the City of Raleigh Arts Commission and the United Arts Council of Raleigh and Wake County.
Simmie Kastner is a Leader of Quality Assurance for Fidelity National Financial and Institutional Wealth Services products.She studied theatre at Northwestern University and received degrees from American University in Painting and Computer Science.She has worked on several productions at Burning Coal, including Rat in the Skull, Love's Labours Lost, Winding the Ball, St. Nicholas, Night and Day, The Weir, Macbeth, Watership Down, A Doll House, The Mound Builders, Company, Road to Mecca, and Travesties.
Greg Paul has performed in 20 Burning Coal productions, most recently in the Iron Curtain Trilogy in London. Greg served on the Burning Coal Board of Directors, including two terms as Chair. His company, Greg Paul Builders, renovated the Murphey School Auditorium in 2007.
We look forward to the opportunity of celebrating Burning Coal's and the community's shared accomplishments and visions for the future. We hope to see you there!
---
Rode Hard the Band will rock the Murphey School on Sunday, September 18, from 2 to 4 pm. as Burning Coal celebrates the start of its 20th anniversary season. Come for great music in a great venue and celebrate with us! Tickets are free to 2016/2017 season subscribers or $10 general admission.  All proceeds will go to Burning Coal's roof-replacement fund. Click here to subscribe. Or call the theatre at 919-834-4001 to purchase tickets to the kickoff. 
Rode Hard the Band is so named because its members are, as they say, "men of a certain age." Read more about them here.
---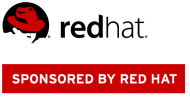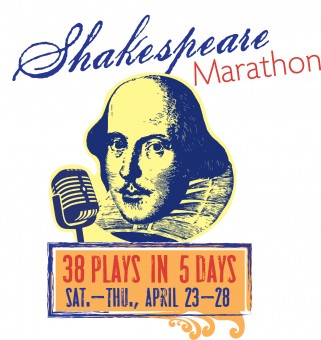 Burning Coal Theatre Company and the NC Museum of History will present a marathon reading of each of William Shakespeare's 38 plays next April to mark the 400th anniversary of the playwright's death. Each play will be read by a different theatre company from North Carolina. The nonstop readings will take five days and will begin at noon on April 23, 2016 until about 6 am on Thursday, April 28, 2016 at the museum, 5 East Edenton Street in downtown Raleigh. The event will be open to the public. Each reading also will be live streamed at https://nsp.performedia.com/rh/ncmh16/session/a1?output=frame and recorded for later viewing thanks to a grant from our friends at Red Hat (read more here). Burning Coal, the professional theatre company based in Raleigh, will produce the marathon. Participating companies are listed below. For additional information, please contact Burning Coal Artistic Director Jerome Davis at 919.834.4001
---

Burning Coal Theatre Company is very happy to announce that Red Hat, the world's leading provider of open source solutions, has agreed to fund the live streaming and video recording of the upcoming Shakespeare Marathon.  Live Streaming Link can be found here:  https://nsp.performedia.com/rh/ncmh16/session/a1?output=frame
The Red Hat technology grant will fund the contracting of Performedia, Inc. of Washington, DC,  to live stream and record the entire 5 ½ day marathon reading of all 38 of Shakespeare's plays April 23 – 28, 2016 at the North Carolina Museum of History. The marathon commemorates the 400th anniversary of Shakespeare's death.
"Red Hat is proud to support the Shakespeare Marathon," said John Adams, senior director of Global Brand Strategy and Management, Red Hat. "Encouraging community-powered collaboration and building a vital cultural commons resonates with our open source values, and helping Burning Coal with this project seemed a natural fit." Read More »
---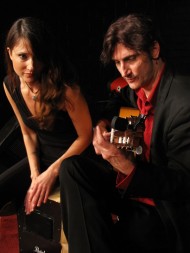 Jun 22, 2014
$10 at the door

Burning Coal welcomes back Ed Stephenson and the Paco Band to our MusiCoal 2014 series. The performance will take place Sunday evening, June 22nd at 7 pm at Burning Coal's Murphey School, 224 Polk Street, Raleigh.  Tickets are $10 and are available at the door. The concert will feature internationally-acclaimed guitarist Ed Stephenson with The Paco Band along with special guest, flamenco dancer Sarah Shelton.
Estimated run time: 2 hours.
---
Apr 12, 2014
Lecture by Dr. James A. Grymes
Internationally regarded musicologist Dr. James A. Grymes of Charlotte, NC will speak on Saturday, April 12th at 6 pm about his soon to be published book Violins of Hope.  Tickets are $5 at the door or FREE for anyone holding a ticket to any performance of Burning Coal's The Diary of Anne Frank (April 3 – 27).  The talk will take place at Burning Coal's theatre, 224 Polk Street, Raleigh, NC.  For details, please call 919.834.4001.
James A. Grymes is an internationally respected musicologist, a critically acclaimed author, and a dynamic speaker who has addressed audiences at settings ranging from prestigious academic conferences to significant public venues such as Weill Recital Hall at Carnegie Hall and Merkin Concert Hall in New York City. Dr. Grymes is Professor of Musicology and Interim Chair of the Department of Music at the University of North Carolina at Charlotte 
A leading authority on the Hungarian musician Ernst von Dohnányi, a forgotten hero of the Holocaust resistance who was later falsely accused of Nazi war crimes, Dr. Grymes is currently writing a book titled Violins of Hope.  A stirring testament to the strength of the human spirit and the power of music, Violins of Hope tells the remarkable stories of violins played by Jewish musicians during the Holocaust and the Israeli violinmaker dedicated to bringing these inspirational instruments back to life.  Violins of Hope will be published by HarperCollins in August 2014.
---

Feb 3 – Feb 4, 2014
7:30 pm on Monday
7:30 pm on Tuesday

$10 at the door

Directed by Hellena Schiavo and Ilana Rozin
All proceeds will be donated to Interact of Wake County!
Actress, playwright, and political activist Eve Ensler was talking with a friend who was going through menopause in the 1990s when she was first struck by the way women spoke about their bodies, which she believed was a reflection of how they felt about themselves and their gender. Ensler was inspired to write a series of essays on women, their bodies, and the language they used to communicate about themselves which she adapted into a performance piece she called The Vagina Monologues. Opening at a tiny off-off-Broadway theater, The Vagina Monologues soon became a hit in New York City which spread around the world, becoming an international phenomenon. 
Estimated run time: 2 hours.