---
Kennedy Space Center 3056 Barrow Drive Raleigh, NC 27615
---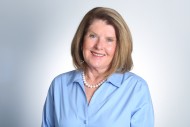 Barbara L. Goodmon
Barbara Goodmon is an actively engaged philanthropist and advocate, supporting and promoting effective and high-quality human services for communities in need. At age 22, her career began as the head nurse in the pediatric trauma and burns unit in Memphis, TN. She obtained her nursing degree from St. Joseph's School of Nursing in 1965 and later acquired a Bachelor of Arts in from Meredith College in 1994 (magna cum laude) and a Master of Liberal Studies from North Carolina State University in 2000. 
Her devotion to helping disadvantaged people and those in need has been a lifelong pursuit. She was nearby when Martin Luther King, Jr. was assassinated and the moment proved to be a turning point in her life. After moving to North Carolina, she began dedicating herself to civic and social change through decades of community engagement, board service, and philanthropy here in North Carolina. A passionate believer in community building, partnerships, and supporting the less fortunate, Barbara has served as President of AJ Fletcher Foundation since 2003 and was Executive Director 2003-2012. The organization is recognized for its ability to promote collaboration and capacity-building in the nonprofit sector.
Barbara has been significantly involved in several community organization boards. In 2014, the Salvation Army of Wake County named its new women's shelter after Barbara, one of its most dedicated, tireless champions. She was named to its Advisory Board in 1981 and served as the first and only female board Chairman from 1985-1987. In the early nineties, Barbara started and led the Christmas Committee which currently involves more than 2,000 volunteers and provides over 1,200 families with new toys, clothing, and food during the holiday season.
As Vice Chairman of The Healing Place of Wake County, she was committed to starting a successful substance abuse treatment center for homeless men and women in Raleigh. Opening its doors in 2001, the facilities have provided more than one million beds of shelter and days of recovery to homeless men and women. She served on the Wake County Human Services board from 1996-2005, serving as Chairman for three of those years, and helped start the Institute for Nonprofits at NC State University in 2004.
Barbara currently serves as President and Board Member of The Fletcher Academy and has previously served on the Meredith College Board of Trustees, North Carolina State University College of Humanities and Social Sciences Advisory Board, University of North Carolina School of Social Work Board of Visitors, University of North Carolina School of the Arts Board of Trustees, and the Raleigh Fine Arts Society, amongst many others.
Barbara has received both the prestigious William Booth Award (1992) and Others Award (1999) from The Salvation Army, recognizing her demonstrated dedication to the organization's goals of service to humankind as well as outstanding service to the community. Barbara was also honored in 1998 as a YWCA Academy of Women Inductee.
When Barbara isn't spending time supporting community initiatives, she is mostly traveling to all corners of the world, practicing yoga, or with the family she loves dearly. She is married to James (Jim) Fletcher Goodmon and they have three children and eight grandchildren.
Past Productions & Events
The following shows/events have passed.
---