---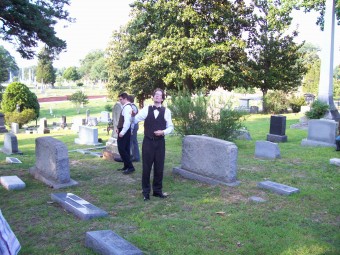 Come see a one-of-a-kind performance at Raleigh's "cemetery full of life!"  Every year, Burning Coal Theatre teams up with Historic Oakwood Cemetery to present an evening of vignettes about notable people who are resting peacefully there.
Directed by George Jack
May 18-20, 2018
6:30 pm Friday and Saturday, 2 pm Sunday
Tickets $20 for adults, $10 for students, available at the Oakwood Cemetery on the date of the performance or by calling 919.834.4001.
 701 Oakwood Ave, Raleigh, NC.  
Parking will be available inside the cemetery.
This year's theme is "Only Time Will Tell".  It will be a celebration of those who lived in the limelight and those for whom history has decided deserves to be remembered, despite their having been neglected during their time.
We are proud to feature local playwrights and actors in this evening about those who came before.  This year features the tales of several historic figures whose final resting place is located in or around the cemetery's Chapel Circle. Audience members can follow the reversed hands of the clock as they travel around, and back through time.  Only Time Will Tell will include the following subjects: Read More »
Past Productions & Events
The following shows/events have passed.
---