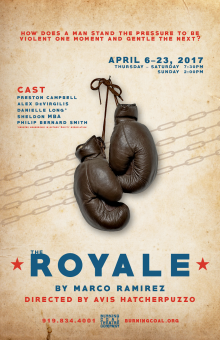 The Royale
Written by Marco Ramirez
Directed by Avis Hatcher-Puzzo
What kind of pressure does it put on a man when you ask him to be brutal, cunning and selfish one minute and quiet, thoughtful and subservient the next?  For the first African American Heavy Weight Champion, that question took a back seat to the even more important one:  what kind of pressure does he put on himself.  This electrifying new play will knock you for a loop!
"This country's been waiting for this fight, whether they like it or not!" – from The Royale
Read the N&O article about the North Carolina connection to Heavy Weight Champion Jack Johnson.
Estimated run time: 1.5 hours.