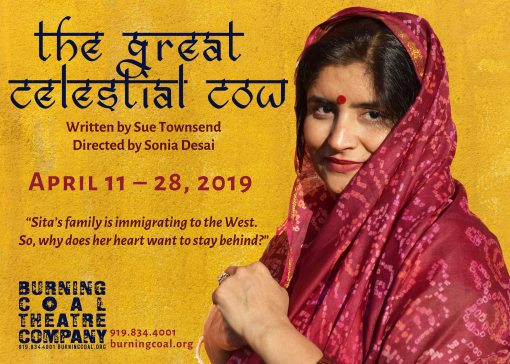 "Sita was the life and soul.  That's what Lila said, the life and soul.  I don't know what it means."
"It means mama was good for a laugh."
"Laughter is different in a village.  Here (in the big city), there are walls and echoes to make a woman's laughter sound defiant and coarse."
Sue Townsend made a name for herself writing children's stories like The Secret Diaries of Adrian Mole, Age 13 3/4s.  Then, in 1984, her masterpiece about a woman searching for her own self-worth amid the great city in the West brought her international acclaim.  When the family uprooted from India and headed West to a new life, Sita was joyful.  But the reality of that new life was not quite what she expected.  And why, why was her old milk cow tagging along for the ride, if only in her mind?
This production is suitable for ages 16 and up.
 We would like to thank this production's advertising sponsors:  
Hibernian Pub
Leela School of Dance
Namaste RTP
Triangle Telangana Association  
Organization of Women in International Trade, Greater Triangle
Sampige – Triangle Kannada Association
Jaipur Indian Grill – Inside the Ramada Inn
Estimated run time: 2 hours.