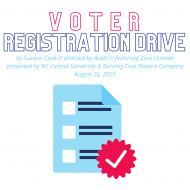 VOTER REGISTRATION DRIVE
by Susana Cook, directed by Asabi 
featuring Zora Umeadi 
presented by NC Central University and Burning Coal Theatre Company
Release date:  August 26, 2020
Eva is helping women register to vote when she gets stuck in an elevator. To help her through this traumatic event, she recalls what the suffragettes in 1910's went through.  Content Warning: language.
About the Playwrights and Producing Theatres
Susana Cook is an Argentinean-born New York-based experimental performance artist who has been writing and producing original work for over 20 years.  An iconic figure of the East Village art scene from the mid 1990's to the present, she has presented over 17 original plays at Dixon Place, P.S. 122, W.O.W Cafe Theater, Ubu Rep and The Kitchen, among others. Her ensemble plays and monologues irreverently, boldly and cleverly tackle racism, homophobia, classism, and animal rights. 
Susana's play Voter Registration Drive is being presented by North Carolina Central University, currently listed among the top five best HBCU Theatre Schools in the United States by Hbcu-Colleges.com. The department is designed to satisfy the needs of a broad range of enthusiastic students and to give them the widest possible exposure to man's accomplishments in theatre and to experiences that will develop them as capable theatre practitioners.  Five concentrations are available to theatre majors – Performance, General Theatre, Technical Theatre, Theatre Education, and Dance Education. Offering a Bachelor's Degree in Theatre, our practical concentrations prepare majors to become innovative performers, teachers, designers, technicians, production managers, media specialists, and dramaturgs.
Correction – The photos at the end of this digital play have switched labels. Lucy Burn's photo is actually of Dorothy Day and vice versa.