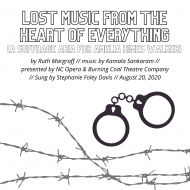 LOST MUSIC FROM THE HEART OF EVERYTHING (a suffrage aria for Amelia Himes Walker) 
by Ruth Margraff, music by Kamala Sankaram
Presented by North Carolina Opera and Burning Coal Theatre Company
Sung by Stephanie Foley Davis
Release date:  August 20, 2020
About the playwrights and the producing theatres
Stephanie Foley Davis, mezzo-soprano, has sung with opera companies around the U.S., including North Carolina Opera, Arizona Opera, Nashville Opera, Opera Carolina, Piedmont Opera, Greensboro Opera, and Opera Roanoke.  With the Glimmerglass Festival she created the role of Mary McCarthy in Jeanine Tesori's A Blizzard in Marblehead Neck, and she created the role of Flo in Libby Larsen's Picnic at UNC Greensboro.  She has also performed with the symphony orchestras of Memphis, Winston-Salem, and Portland, Maine. 
Ruth Margraff wrote 6 critically acclaimed martial arts operas with the late composer Fred Ho for the Apollo, Guggenheim Museum, LaMama, and the Brooklyn Academy of Music. Her recent writing includes: Mirror Butterfly her jazz opera for climate refugees with Afro Yaqui Music Collective at New Hazlett Theater (Pittsburgh), Kennedy Center Millenium Stage (DC), National Ensemble Theater plenary (Tucson), 1st Mesopotamian Water Forum (Kurdistan, Iraq), and released on Innova Records at Red Rooster/Ginny's and the National Jazz Museum (Harlem); Temptation of the Fresh Voluptuous for the Nisville Jazz Teatrski Festival (Serbia), Red Tape/Art Institute Ballroom (Chicago), Coe Marquis Series Sinclair Stage (Iowa); and haiku for Bella Gaia with NASA holographic imagery. With her Café Antarsia Ensemble she wrote Previously Blue, Three Graces, Wellspring, Judges 19: Black Lung Exhaling which have toured all over the US and internationally. Ruth has received awards from Rockefeller, McKnight, NEA, and Fulbright foundations, etc. She is a tenured Professor at the School of the Art Institute of Chicago. https://bakerartist.org/node/23709 
Kamala Sankaram, composer, has received commissions from Washington National Opera, Houston Grand Opera, Beth Morrison Projects, the PROTOTYPE Festival, Opera on Tap, Opera Memphis, and the Brooklyn Youth Chorus, among others. She is the recipient of a Jonathan Larson Award from the American Theater Wing.  She is currently working with Opera on Tap and librettist Jerre Dye on The Parksville Murders, the first opera written for virtual reality. Episode 1 is now available on SamsungVR.  Her other operas include Taking up Serpents, Thumbprint, Miranda, and The Infinite Energy of Ada Lovelace.