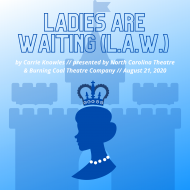 LADIES ARE WAITING (L.A.W.)
by Carrie Knowles
presented by North Carolina Theatre and Burning Coal Theatre Company
Release date:  August 21, 2020
King Arthur is shocked when his wife, Guinevere, is planning a council known as the L.A.W, to help create equality for all the women in the kingdom.
About the Playwrights and the Producing Theatres
Carrie Knowles has published four novels, (Lillian's Garden, Ashoan's Rug, A Garden Wall in Provence, and The Inevitable Past), a collection of short fiction (Black Tie Optional) a memoir (The Last Childhood), and a writing workbook (A Self-Guided Workbook and Gentle Tour on Learning How to Write).  She writes a regular personal perspectives column for Psychology Today: Shifting Forward. She was the 2014 North Carolina Piedmont Laureate in Short Fiction. 
The North Carolina Theatre, Elizabeth Doran, President and CEO, is a professional regional theatre company comprised of Equity and non-union performers. For over 35 years, NCT has been producing Broadway-caliber productions in Raleigh's Duke Energy Center of the Performing Arts by combining local performers with New York City artists. www.nctheatre.com.  This production of Ladies Are Waiting (L.A.W.) by Carrie Knowles will be directed by Producing Artistic Director Eric Woodall and feature actors Estes Tarver  and Rasool Jahan, with Audio/Visual Production by Eric Collins.