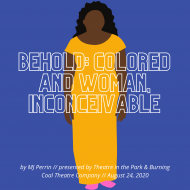 BEHOLD: COLORED AND WOMAN, INCONCEIVABLE
by MJ Perrin
presented by Theatre in the Park and Burning Coal Theatre Company
Release date:  August 24, 2020
College student Mace is determined to write a paper on Black women suffragists and prove her professor wrong; but she had no idea how much there was to learn until she explores the treasure chest that her late grandmother kept safe, just like all the ancestors before her had done.  Content Warning: profanity.
About the Playwrights and Producing Theatres
MJ Perrin's plays have been produced throughout the United States. She's a Maryland State Arts Council Individual Artist Awardee for Playwriting and a former member of the New Perspective Theatre's Women's Work Short Play Lab in New York City where her short play, Stepping Through Blood, was produced. Perrin received her MFA in Theatre Arts from Towson University, where she is an Adjunct Professor III. She is a member of the Dramatists Guild of America.