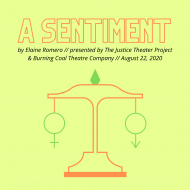 A SENTIMENT
by Elaine Romero
presented by The Justice Theatre Project and Burning Coal Theatre Company
Release date:  August 22, 2020
Set in 1848, the night before the signing of the Declaration of Sentiments at Seneca Falls, Lucretia Mott, a social reformer, pleads with her husband of the importance for women to fight for their rights to equality.
About the Playwrights and the Producing Theatres
Elaine Romero is an award-winning playwright who has had her plays presented at the Alley Theatre, Arizona Theatre Company, Actors Theatre of Louisville, the Kennedy Center, across the U.S. and abroad. Recent commissions: Ford's Theatre (Modern Slave), Arizona Theatre Company (Title IX), Goodman Theatre (Playwright's Unit, A Work of Art), NNPN/Kitchen Dog Theater (Ponzi, Edgerton New American Play Award).  This past season new productions included Like Heaven (Arizona Repertory Theatre), Undocumented (Cal State Dominguez Hills), Revoluciones (Latino Theatre Company with Foro Shakespeare/Mexico), and Bloody River (Union College).
Her war tetralogy includes Graveyard of Empires (Blue Ink Playwriting Award), A Work of Art, developed as part of the Goodman Theatre Playwright's Unit, and the upcoming Rain of Ruin. Graveyard of Empires (16th Street Theatre) and A Work of Art (Chicago Dramatists/Goodman Theatre) premiered in Chicago, and Revoluciones (LATC). At Headlands Center for the Arts, Elaine began the final play of the project, When Reason Sleeps. 
Modern Slave was featured at the 2017 Seven Devils Playwrights Conference. It received readings at ACT (Seattle), Victory Gardens (Chicago) and the Road Theatre (LA).