Past Productions & Events
The following shows/events have passed.
---
---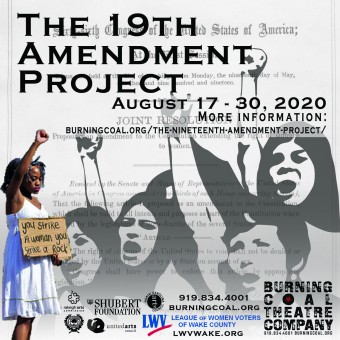 Burning Coal Theatre is pleased to present The 19th Amendment Project, a collection of short plays written by some of the most accomplished women and/or non-binary playwrights working today, writing on the passage of the 19th Amendment 100 years ago and its ongoing impact.  Each of the 14 plays will be released virtually, one at a time, between August Aug 17 – 30 at 7 pm EST.  Tickets for one viewing of each 10 minute play will be $2 (or buy the whole series for $25) and each will be available from the day each play is released through the end of September, 2020. 
The playwrights expected to participate include Clare Bayley, Hannah Benitez, Susana Cook, Kelly Doyle, Jennifer Natalya Fink, Magdalena Gomez, Tamara Kissane, Carrie Knowles, Deb Margolin, Ruth Margraff, Kate Morris, MJ Perrin, Elaine Romero, Prageeta Sharma and Ariel Zetina.
The producing arts organizations will include Agape Theatre, Burning Coal Theatre, the Gilbert Theatre, The Justice Theatre Project, NC Central University Theatre, the North Carolina Theatre, the North Carolina Opera, Raleigh Little Theatre, Sweet Tea Shakespeare, Theatre in the Park, William Peace University Theatre and the Women's Theatre Festival.
NOTE:  Subscribers to our 2020/2021 season get this series free.  CLICK HERE to subscribe.
 Our production partner is The League of Women Voters of Wake County

Estimated run time: 2 hours.