---
Oct 4 – Oct 6, 2019
6:30 pm on Friday – Saturday
2 pm on Sunday

$20 adults
$10 students

Oakwood Cemetery
Written by Ian Finley and others
Directed by George Jack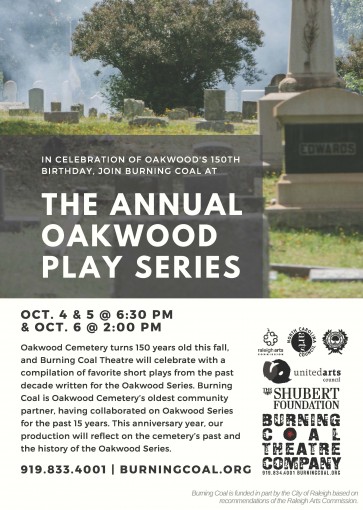 Burning Coal Celebrates 150 Years of the Oakwood Cemetery
Past favorite Oakwood plays re-mounted for monumental anniversary celebration!
RALEIGH, NC – Oakwood Cemetery turns 150 years old this Fall and Burning Coal Theatre will celebrate with a compilation of favorite short plays from the past decade written for the Oakwood Series.  Playwright Ian Finley (past North Carolina Piedmont Laureate) will be featured among this year's writers.   Each year, Burning Coal and Oakwood Cemetery team up to produce a series of plays about the inhabitants of Oakwood on the historic site.  Burning Coal is Oakwood Cemetery's oldest community partner having collaborated on Oakwood Series for the past 15 years.  This anniversary year, we reflect on the cemetery's past and the history of the Oakwood Series by reimagining favorite stories and play adaptations.
October 4th & 5th at 6:30 pm & October 6th at 2:00 pm / 701 Oakwood Ave | Raleigh, NC.  Tickets $20 or $10 for students, available at 919.834.4001 or at the cemetery where parking will be available inside the cemetery.
This year's production, directed by George Jack, will feature the stories of influential people from Raleigh's past including J. Brinton Smith, Anne Wilkerson, Elizabeth Peele, Pullen & Ligon, Washington, Rachel Blythe, and Marshall Haywood.  This year's featured playwrights include Ian Finley, Rebecca Wyrick and Brook North.  Come revisit some of your favorite characters from the past and see the ghosts of these plays re-awakened in the historic Oakwood Cemetery. 
Historic Oakwood Cemetery was founded in 1869 near the NC State Capitol in Raleigh's Historic Oakwood neighborhood.  Tickets are $20 for adults [$10 for students] and are available at the Oakwood Cemetery on the date of the performance or by calling 919.834.4001.  Parking available inside the cemetery. 
Additionally, Oakwood will be commemorating their 150th anniversary with a gala at the NC Museum of History on October 20th from 6 to 9 pm at the NC Museum of History, 5 E. Edenton Street, Raleigh.  For tickets to the gala, please call Oakwood Cemetery at 919-832-6077.  
Celebrate with us!  To receive your invitation to Oakwood Cemetery's 150th Celebration contact robin@historicoakwood.com or 919-832-6077.
For 150 years, Historic Oakwood Cemetery has told stories of generations: families who formed our city, soldiers who honored our country, and people of today who chose to rest among the historic oaks.   Join us, in our 150th year, as we commemorate those that rest at the 'sleeping place amongst the oaks."  Join us for Fine Food, Spirits and Hallowed Guests.
HEAR THIS!  George Jack (Director) talking on WHUP about OAKWOOD AT 150 (starts at 42:00)
https://whupfm.org/episode/lights-up-9-18-19-permanent-archive/ 
NC Museum of History Blog Post by Caroline Gregus: https://www.ncmuseumofhistory.org/blog/untold-history-of-oakwood-cemetery 
Estimated run time: 1.25 hours.
Past Productions & Events
The following shows/events have passed.
---
---
Dec 13, 2014
$5 at the door

The Mordecai House 1 Mimosa Street Raleigh, NC
Written by Ian Finley and Jonathan Fitts
Directed by Jackie Knollhuff
Coproduced by The Mordecai House
---
"One hundred years. And much has changed. But much has endured. And that's what I really want to discuss tonight."
Nov 21 – Nov 23, 2014
7:30 pm on Friday – Saturday
2 pm on Sunday

Written by Ian Finley
Burning Coal Theatre stages this premiere original dramatization of the history of Rotary in North Carolina and the leaders who shaped the growth of Raleigh. The play is written by former Piedmont Laureate Ian Finley and staged in the Burning Coal performance space in the Murphey School building on the corner of Polk and Person Streets in downtown Raleigh.  The modest admission fee of $20 per ticket will benefit the nonprofit Theatre.  NOTE:  To purchase tickets, please click http://raleighrotary.bpt.me/. 
Performances take place on Friday, November 21 and Saturday, November 22 at 7:30 p.m. and a Sunday, November 23 matinee at 2:00 p.m. 
Estimated run time: 1.5 hours.
---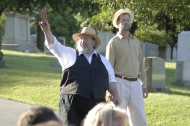 Jun 20 – Jun 22, 2014
6:30 pm on Friday – Saturday
2 pm on Sunday

$20 adults
$10 students and teachers

Oakwood Cemetery
701 Oakwood Avenue
Raleigh, NC
Written by Various Playwrights from around the Country
Burning Coal Theatre Company will premiere Oakwood: An Educator's Story, a series of short plays in the historic Oakwood Cemetery in Raleigh, NC, Friday and Saturday, June 20th and 21st at 6:30pm and Sunday, June 22nd at 2pm.  Adult tickets are $20, student and teacher tickets are $10 with valid ID, and are available by calling 919.834.4001.
Oakwood: An Educator's Story is a celebration of individuals from Raleigh's illustrious past who have had an impact on education in North Carolina and are buried in the historic Oakwood Cemetery.  These individuals include Hugh Morson, Clarence Poe, Dr. Elizabeth Delia Dixon-Carroll, James Joyner, Daniel Harvey Hill, Jr., Samuel Fox Mordecai, and Frederick Olds.  The evening features new plays by nationally acclaimed playwrights Guadalupe Flores, MJ Halberstadt, Margaret Hoffman, Michael S. Parsons, Lee August Praley, and Jaclyn Villano.  The cast of Triangle-based actors will include Jessica Heironimus, George Jack, Benji Jones, Victor Rivera, Ryan Patrick Sheehe, and others. 
Estimated run time: 1.25 hours.
---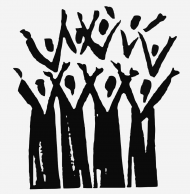 Mar 13 – Mar 23, 2014
7:30 pm on Thursday – Saturday
2 pm on Sunday

$25 Regular Admission
$20 Seniors (65+)
$15 Students, Teachers & Active Military
$15 Thursday Admission

Coproduced by the Raleigh Boychoir
Jerome Davis, Artistic Director
Robert Unger, Choral Conductor
Written by Ian Finley
Choreographed by Robin Harris
Directed by Ilana Rozin
Burning Coal Theatre Company and the Raleigh Boychoir will present Civil Rights Through Song: A Choral History of Raleigh Through the Civil Rights Era, a performance using choral music, dance and drama to celebrate the Civil Rights Movement of the late 1950s/early 1960s. 
When a chance encounter at a City of Raleigh Arts Commission (CORAC) workshop earlier this year brought together two seemingly unrelated arts organizations—Burning Coal Theatre Company and The Raleigh Boychoir—no one would have imagined that the seed of an idea planted that day would develop into a real-life collaboration. Funded in part by a CORAC collaboration grant, Civil Rights Through Song: A Choral History of Raleigh Through the Civil Rights Era is a performance piece that will include choral music, dance and dramatic narrative.
The Civil Rights Through Song performance will feature three distinct choral sections interspersed with dance and spoken word narrative. One section will include choral music from the late 1950s to early 1960s sung by white Raleighites who would have been in the segregated Raleigh City School System at that time. The second portion will present musical works sung by African American Raleighites who would have been in the school system in that same era. The third portion will highlight today's choral music sung by young people who are enrolled in today's desegregated Wake County School System, including boys from The Raleigh Boychoir and girls from the same age group. The evening will conclude with a joint performance by all three choirs.
Both organizations are currently in the production phase of this collaboration, with performances scheduled to take place in March 2014. In addition to Burning Coal Theatre Company and The Raleigh Boychoir, this creative effort has a number of talented arts groups and individuals involved in bringing this production to life:
Jerome Davis, Artistic Director – Davis is Burning Coal Theatre Company's founding artistic director. He has directed numerous theatrical productions around the country. He serves as the creative visionary for this production.
Robert Unger, MM, Choral Conductor – Unger is artistic director of The Raleigh Boychoir, where he conducts the Performing Choir, Resident Choir, Millennium Singers and Alumni/Scholar Chorus. He will organize and direct the three choral groups for this production.
Ian Finley, MFA, Playwright – Finley, the 2012 Piedmont Laureate, will serve as playwright and dramatist for this production. He currently teaches at a charter school in RTP and previously served for eight years as education director at Burning Coal Theatre Company.
Robin Harris, Choreographer – Harris is director of the North Carolina State University Dance Program, where she also serves as artistic director of the NCSU Dance Company, mentors student choreographers and teaches dance composition. She will choreograph the dance components of this production.
Ilana Rozin, Director – Rozin is from Denver, Colorado. She recently graduated from Cornell College in Iowa with a degree in theatre. She is working this year as Burning Coal's company manager.
Performances will be held in the auditorium of Raleigh's first integrated school, the Murphey School, which since its 2008 renovation has been home to Burning Coal Theatre Company' main performance venue. This state-of-the-art, modern three-quarter thrust/flexible theater, which seats up to 175 people, underwent a seven-year $1.5 million renovation and has been used by numerous arts groups, schools and private individuals. The theater is located at 224 Polk Street in Raleigh.
Performance dates are March 13 – 15 and 20 – 22, 2014 at 7:30 pm and March 16 and 23 at 2 pm. Performances will be held at Burning Coal's Murphey School auditorium, located at 224 Polk Street in Raleigh. Tickets are $25 or $20 for seniors (65+) and $15 for students, teachers and active military. All Thursday evening tickets are $15. Sunday, March 16th at 2 pm is our "Pay What You Can" day. This performance is not a part of Burning Coal or the Boychoir's subscription series. Tickets may be purchased by calling 919.834.4001.
ABOUT BURNING COAL THEATRE COMPANY
Burning Coal Theatre Company is an intimate, professional theatre located in downtown Raleigh, NC. Currently in its 17th season, Burning Coal was founded by Artistic Director Jerome Davis and Managing Director Simmie Kastner. Burning Coal's mission is to produce theatre that is "literate, visceral, affecting."
ABOUT THE RALEIGH BOYCHOIR
Celebrating 45 years of choral excellence, The Raleigh Boychoir was founded in 1968 to give boys with unchanged voices an opportunity to learn and perform some of the world's greatest choral music. Today, the choir has an annual membership of around 70 boys. The choristers, conductors and musicians of the Raleigh Boychoir contribute generously with their talents to the musical and cultural life of Raleigh and the greater Triangle area and beyond.