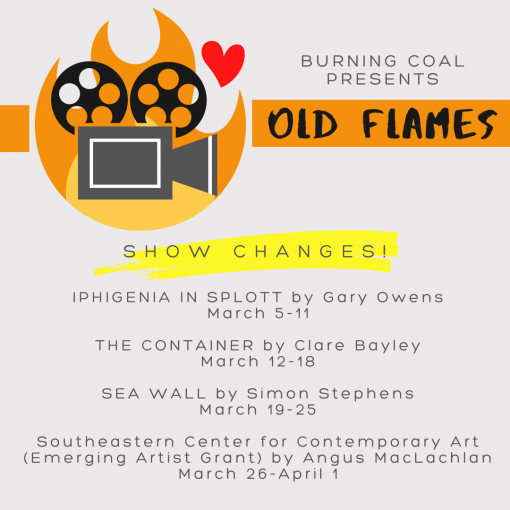 Four plays streamed into your homes in March.
Tickets $5 per viewing at links below.
SOUTHEASTERN CENTER FOR CONTEMPORARY ART (EMERGING ARTIST GRANT) by Angus MacLachlan
Available Friday, March 26th – Thursday, April 1st
Southeastern Center for Contemporary Art, now published as Emerging Artist Grant, is a comedy by Winston-Salem based playwright Angus MacLachlan.  It concerns a young writer living in that North Carolina city, working to make a life for himself in the arts while dealing with the very real needs of two women, his sister and a young college professor who has recently moved to town and taken up residence squarely in his heart. 
Burning Coal originally produced this new play in 2010. For just $5 your OLD FLAMES ticket gives access through Thursday, April 1st at 11:59pm, and 48 hours to watch once you begin your viewing. It also includes insider access to the cast reunion Zoom on March 26th.  Following the 90 minute performance, a talkback is included with original cast members Emily Rieder and PJ Maske.