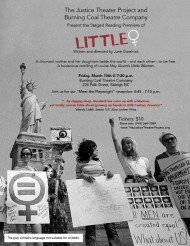 The Justice Theater Project and Burning Coal Theatre
In celebration of Women's History Month
present the premiere staged reading of
LITTLE ♀
Written and directed by June Guralnick
The play contains language not suitable for children.
Drop by for our "Meet the Playwright" reception: 6:45-7:15 p.m.
Click HERE for more information about the Playwright and the Show
DRESS AS YOUR FAVORITE FEMINIST FROM AMERICAN HISTORY! BEST COSTUME WINS A PRIZE BASKET!
LITTLE ♀ CAST
Mary Rowland – 'MAMAN' GOTLUCK (Divorced mother of three daughters) 
Victoria J. Bender – MARGE GOTLUCK  (Eldest daughter)
Amber Nicole Dilger* – JO GOTLUCK (Middle daughter)
Ann Forsthoefel – AIMEE GOTLUCK (Youngest daughter)
Juliana Valente – LOUISA MAY ALCOTT (Famous author)
Nathan J. Logan – MADMAN 1
Fred Corlett – MADMAN 2
Paul Newell – MADMAN 3
Elizabeth Galbraith – NARRATOR                                                 
*Appearing through an Agreement between this theatre, and Actors' Equity Association, the Union of Professional Actors and Stage Managers in the United States.
 "…by digging deep, Guralnick has come up with a hilarious, yet totally serious fable about growing up female in 20th Century America!" Wendy Lidell, Senior V.P., Kino Lorber Films
Estimated run time: 1.75 hours.