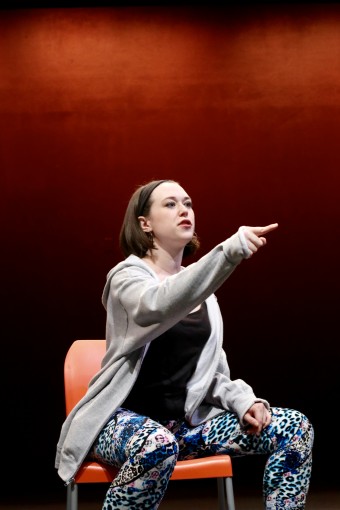 In 2018 Burning Coal presented Gary Owen's play about a young woman making all the wrong choices and staggering toward … what?  The answer may surprise you.
Burning Coal has been invited to the 2019 Capital Fringe Festival in Washington in July, 2019.  We will have two free open rehearsals on Saturday, July 6 at 7 pm and Sunday, July 7 at 2 pm prior to our two week run in Washington performing at the Plum: Arena Stage at the Mead Center for American Theater.  Please come help us see the show off in grand style.  WARNING:  Strong Language.
"… a career-best performance…" "… in a tough, thought provoking production." – Byron Woods, IndyWeek
Burning Coal's performances in Washington, DC will be July 12, 13, 20 & 21st.  If you are going to be in DC and want to come support Burning Coal, or if you have friends in DC who would enjoy this play, tickets may be purchased at https://www.capitalfringe.org/event/iphigenia-in-splott/.
Estimated run time: 1 hours.