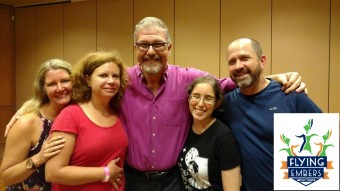 "What does one do in the dead of winter?
Get cozy with Burning Coal's very own Flying Embers Improv Troupe. Wear your pajamas, slippers, sweatsuit, yoga pants, onesy, or whatever you are comfortable relaxing and playing in (no birthday suits, please).
Enjoy some long form and short form improv, audience participation games, and a special presentation (and perhaps more) from Anoo Tree Brod, one of the Triangle's best loved and most seasoned improvisation artists!
All tickets $15. Taxes and fees included.
All shows are approximately 90 minutes in length with a 10 minute intermission. Audience participation is highly encouraged. Discretion advised as adult themes are expected."
TICKETS:  
https://www.eventbrite.com/e/flying-embers-improv-troupes-annual-pajama-party-tickets-41261016812