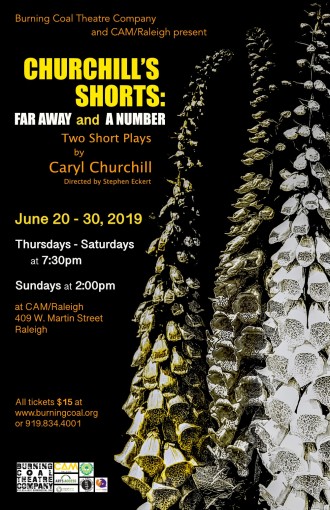 Burning Coal Theatre Company and CAM/Raleigh are proud to present CHURCHILL'S SHORTS, two short plays by Caryl Churchill.   FAR AWAY and A NUMBER are two short plays set in the near future, one about what happens when we abuse our environment (hint, it abuses back) and one about the impact of technology on family and society.
CAST
Ben Apple
Mark Filiaci
Chloe Oliver
Julie Oliver
Graphics by Sara Method
TEAM
Matthew Adelson – Lighting
Juan Isler – Sound
Josh Martin – Scenery/TD/ME
Dylan Bailey – PSM
Nathalie Tondeur – Assistant Director
Estimated run time: 2 hours.