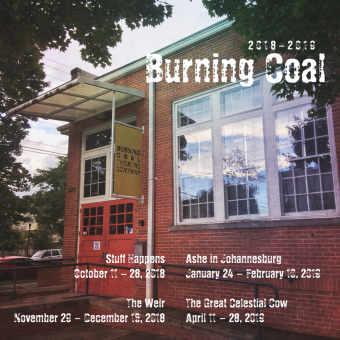 Join us for
The Difference Makers
Burning Coal's 22nd Season
in Raleigh, North Carolina
Whether it is global leaders or a lonely old mechanic in a pub, whether it is a world class tennis star or a mother fighting to imbue her daughter with a sense of self-worth, they are the difference makers … and these are their stories.
STUFF HAPPENS
by David Hare
Directed by Lillian White
October 11 – 28, 2018
THE WEIR by Conor McPherson
Directed by Jerome Davis
November 29- December 16, 2018
ASHE IN JOHANNESBURG
by Hannah Benitez (World Premiere)
Directed by Jerome Davis
January 24– February 10, 2019
THE GREAT CELESTIAL COW
by Sue Townsend
Directed by Sonia Desai
April 11– 28, 2019
To subscribe CLICK HERE or call 919.834.4001.  Subscription tickets and tickets to individual shows are now onsale!  If you want to get tickets to individual productions, click on the production titles above.
Mainstage Season of four plays (shown above) is $80 per subscription.  CLICK HERE to get your Mainstage subscription.
Breakfast Club Subscription of the above four plays plus three plays from our "second stage series" and breakfast with the artistic director in October, 2017 is $110 per subscription.  CLICK HERE to get your Breakfast Club subscription.