THREE brilliant playwrights, three magnificent performances at the theatre, all part of our annual WAIT 'TIL YOU SEE THIS! Second Stage Series of Plays.
Burning Coal Theatre Company's second stage series, Wait Til You See This, will include three plays  running in repertory during the month of June, 2018.  This year's series will include
WORRIED written & directed by Renee A. Nixon
June 7, 10, 15 & 23 at 7:30
June 16 & 24 at 2 pm
Click here for tickets to Worried
CRUMBLE (LAY ME DOWN, JUSTIN TIMBERLAKE)
by Sheila Callaghan, directed by Kayla Kaufman
presented by the Women's Theatre Festival
June 8, 16, 21 & 24 at 7:30 pm
June 9 & 17 at 2 pm
Click here for tickets to Crumble
IPHIGENIA IN SPLOTT by Gary Owen
directed by Jerome Davis
produced by Burning Coal Theatre
June 9, 14, 17 at 7:30 pm
June 22 at 8:00 pm
June 10 & 23 at 2 pm
Click here for tickets to Iphigenia in Splott
These three electrifying plays will keep you riveted with their storytelling. Tickets:  919.834.4001.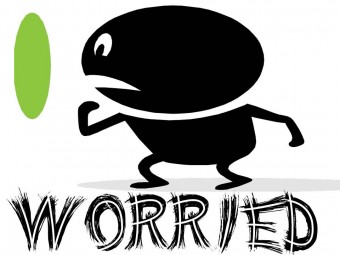 ABOUT WORRIED written & directed by Renée A. Nixon 
We are all worried about something. We all have our own set of worries—be it finding true love; getting rid of love; staying healthy; or fighting to stay alive.  Worried is a set of monologues about people who have real but different worries that have affected their lives and bodies. With humor and a simple shared bond, each character has something that audiences can relate to no matter what they are worried about.  Now, the question is…what makes you worried?
ABOUT RENEE A. NIXON & SHE-COW PRODUCTIONS
A movie critic, playwright and collector are just a few things that describe Renée A. Nixon. A native of Durham, NC has been a movie critic for NC A&T State University Register, The Urban Journal, WQOK-FM, and Plugged TV.  In August 2010, her company DPPR produced her play "Blindsided" at the Hayti Heritage Center in Durham, NC to rave reviews.   And in May 2017, an early version of 'WORRIED' was produced by DPPR, which raised several pounds of food for the Catholic Charities of Durham.  She is a member of Alpha Kappa Alpha Sorority, Inc., National Association of Black Journalists, and is an active member of Holy Cross Catholic Church in Durham.  She is also one of the coordinators for the Garland Lee Thompson's Reader's Theatre of New Works at the National Black Theatre Festival. She is currently working on her first mystery novel.  She-Cow is the collaboration between Sherida McMullan and Emelia "Me-Me" Cowans, two Triangle area actresses who joined together to produce "For Colored Girls…" at Burning Coal several seasons back.  This is their second producing effort with the Wait Til You See This! series at Burning Coal.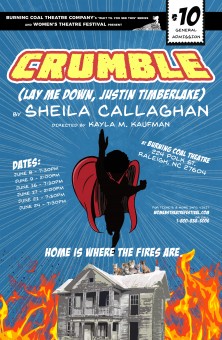 ABOUT CRUMBLE (LAY ME DOWN, JUSTIN TIMBERLAKE) By Sheila Callaghan, directed by Kayla Kaufman
It's Christmas and a year has passed since the untimely death of Janice's father. Struggling to cope, Janice is having spiteful conversations with her dolls, and Mother is suffering from panic attacks, with only her baking skills to keep her busy. In their deteriorating Apartment that incessantly begs for repairs, their only comforts are their visitations from their respective celebrity crushes— Justin Timberlake and Harrison Ford. With the support of Justin's affections, Janice begins to hatch a plan that will mend the chasm of their lives. Meanwhile, the Apartment is developing murderous plans of its own…
ABOUT THE WOMEN'S THEATRE FESTIVAL
The Women's Theatre Festival (WTF) is a group of theatre artists, both women and allies, who seek to address gender parity, diversity, & inclusion in the theatre community.  WTF is based in the Triangle region of North Carolina and is currently in its third year of operations.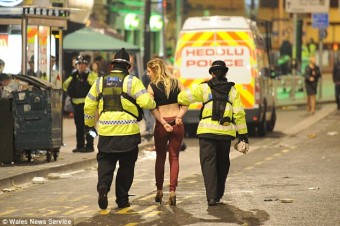 ABOUT IPHIGENIA IN SPLOTT by Gary Owen
""You lot.  Sitting back, taking it easy, waiting for me. To what? Impress you? Amaze you? Show you what I've got?"
Gary Owen's Welsh heroine, Effie is a mythic force that rages (NYTimes), and "brawling, big hearted, raging" (Guardian).  She is on her own, on the streets of Cardiff.  She will fight or die.  Want to guess which?
ABOUT BURNING COAL THEATRE COMPANY
Burning Coal was founded 21 years ago years ago to create "literate, visceral, affecting theatre that is experienced, not simply seen" and using a robust and mixture of local, national and internationally acclaimed artists to generate work that speaks with a North Carolina voice and wields an international perspective.
Estimated run time: 1.5 hours.