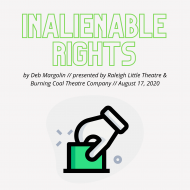 INALIENABLE RIGHTS 
by Deb Margolin
presented by Raleigh Little Theatre and Burning Coal Theatre Company
Release date:  August 17, 2020
Directed by Lucinda Gainey
Featuring: Benji Jones, Rebecca Blum, Simon Kaplan
A woman goes to her local precinct to vote before she has to pick up her daughter; but as soon as she gets into the voting booth, something strange happens.  Content Warning: profanity, sexism.
ABOUT THE PLAYWRIGHTS & THE THEATRES PRODUCING THEIR WORK
Deb Margolin is a playwright, actor, and founding member of Split Britches Theater Company. She is the author of numerous plays, including Imagining Madoff, Turquoise, Critical Mass, and Bringing the Fishermen Home, as well as 11 solo performance plays which she has toured throughout the US. OBIE award for Sustained Excellence of Performance, the Kesselring Prize for Playwriting, a Helen Merrill Distinguished Playwright award, and the Richard H. Broadhead Prize for teaching excellence at Yale.
Raleigh Little Theatre (RLT) was founded in 1936 and is one of the oldest, continuously operating, community theatres in the United States. RLT offers entertainment, education, and community programs year-round, reaching 40,000 people. As a community theatre, RLT engages hundreds of volunteers, under the guidance of professional staff, to achieve its mission and to bring quality live theatre to the Triangle area.  Visit www.raleighlittletheatre.org for more information.  Follow Raleigh Little Theatre on Facebook, Instagram, and Twitter @RLT1936