---
Jun 13 – Jun 24, 2016
10 am – 3 pm on Monday – Friday

$245 DUE on or before the first day of the program.

Eligibility

Incoming 6th-8th graders.
Written by The Students of STC, Jr. 2016
Taught by Burning Coal's Director of Education Jorie Slodki
A two-week conservatory for students in grades 6-8 who want to explore all the possibilities the theatre offers.  Students learn techniques of movement, vocal production, and character study in the mornings and apply those techniques in rehearsing an original play in the afternoons, with a culminating production of that play created by the students themselves at the end of the session (June 24th at 6 pm).  Taught by Burning Coal's Director of Education, Jorie Slodki.
---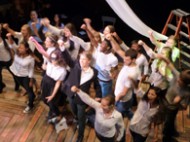 Jul 11 – Jul 29, 2016
10 am – 4 pm on Monday – Friday

This year's play is Antigone
$395 DUE at time of your audition for the play.

Eligibility

Students in grades 9-12 as well as college freshmen.
DEADLINE
July 01, 2016

You will be contacted regarding auditions for the play Antigone following enrollment.
Based on the play by Sophocles. 
Taught by Burning Coal's Director of Education
STC Sr. is our intensive, three-week conservatory for high school students interested in rigorous, professional training.  It involves classes in the mornings followed by rehearsals for a play in the afternoons (this year Antigone!).  Two performances of Antigone will take place at Burning Coal on the evenings of July 29 & 30, 2016.
Burning Coal's Education Director is Jorie Slodki.  Jorie  holds an MA in Theatre Research from University of Wisconsin-Madison and BA in Theatre/Anthropology from Indiana University. She also has a Certificate in Nonprofit Management from University of Iowa and has presented papers at the Midwest Pop Culture Association Conference.  She is originally from Chicago.
Last year, we  were joined by guest artists from colleges and professional theatres around the state.  Similar quality educators will be hired again this year!  Students will learn a wide variety of subjects and techniques in classes with guest artists from fine educational institutions and professional theatres like:
Preston Lane, Triad Stage – The Business of Acting
John Gulley, UNC Greensboro – Meisner
Kirby Wahl, Elon College – The Fitzmaurice Method Read More »
Watch the STC Promo
Past Productions & Events
The following shows/events have passed.
---