---
Jun 11 – Jun 22, 2018
10 am – 3 pm on Monday – Friday

$275 DUE on or before the first day of the program.

Eligibility

Incoming 6th-8th graders.
Written by The Students of STC, Jr. 2018
Taught by Burning Coal's Director of Education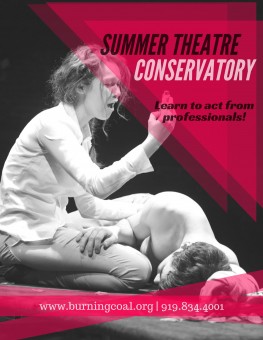 A two-week conservatory for students in grades 6-8 who want to explore all the possibilities the theatre offers.  Students learn techniques of movement, vocal production, and character study in the mornings and apply those techniques in rehearsing an original play in the afternoons, with a culminating production of that play created by the students themselves at the end of the session (June 22nd at 6:30 pm).  Taught by Burning Coal's Director of Education, Kaley Morrison.
NOTE:  All applicants will be admitted, but please fill out the application form and send it to us for informational purposes.
---
Jul 9 – Jul 28, 2018
10 am – 4 pm on Monday – Friday

This year's play is Pride and Prejudice
$425 DUE $100 deposit with application, remainder at time of your audition for the play.

Eligibility

Students in grades 9-12 as well as college freshmen.
DEADLINE
July 02, 2018

You will be contacted regarding auditions for Pride and Prejudice following enrollment.
Written by Jane Austen
Taught by Burning Coal's Director of Education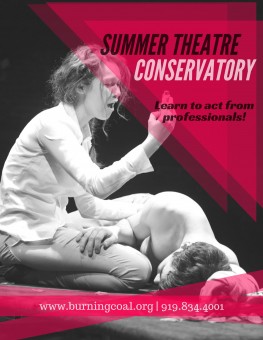 STC Sr. is our intensive, three-week conservatory for high school students interested in rigorous, professional training.  It involves classes in the mornings followed by rehearsals for a play in the afternoons (this year Jane Austen's Pride and Prejudice!).  Two performances will take place at Burning Coal on the evenings of July 27 & 28, 2018. Read More »
Watch the STC Promo
Past Productions & Events
The following shows/events have passed.
---