---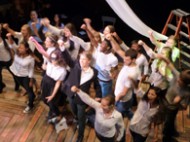 Jul 7 – Jul 25, 2014
10 am – 4 pm on Monday – Friday

This year's play is A Midsummer Night's Dream
$395 DUE at time of your audition for the play.

Eligibility

Students in grades 9-12
DEADLINE
July 01, 2014

You will be contacted regarding auditions for the play (A Midsummer Night's Dream) following enrollment.
Written by one Wm. Shakespeare
Taught by Burning Coal's Director of Education
STC Sr. is our intensive, three-week conservatory for high school students interested in rigorous, professional training.
The conservatories are led by:
 Jonathan Fitts (MFA, New York University & Burning Coal's Education Director).
Last year, we  were joined by guest artists from colleges and professional theatres around the state, including UNC/PlayMaker's lead actor Ray Dooley.  Similar quality educators will be hired again this year!  Students will learn a wide variety of subjects and techniques in classes with guest artists from fine educational institutions and professional theatres like:
Preston Lane, Triad Stage – The Business of Acting
John Gulley, UNC Greensboro – Meisner
Kirby Wahl, Elon College – The Fitzmaurice Method
If you are interested in technical theatre, STC may also be for you.  We need students interested in stage management, assistant directing, set design, lighting design and costume design.  If you aren't a performer, but are interested in one of these areas, you too can participate in STC.  You will participate in classes with the other students in the mornings, gaining a foundation in acting, movement and voice production, then be assigned to work on our production of A Midsummer Night's Dream by William Shakespeare Summer, 2014) during the afternoons.  You will receive professional oversight in your area during STC.  NOTE:  Performances will be held on Saturday, July 26, 2014 at 2:00 pm and 6:30 pm at the Historic Mordecai House, 1 Mimosa Lane, Raleigh.
Watch the STC Promo