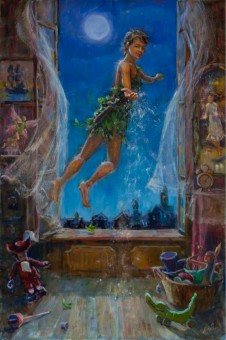 Peter Pan & Wendy adapted by Lillian White and the Burning Coal Theatre Company from the beloved book by J.M. Barrie (World Premiere), Directed by Lillian White
November 30 – December 17, 2017
Thursdays through Saturdays at 7:30 pm, Saturdays and Sundays at 2 pm
Tickets $25 (adults), $20 (seniors 65+), $15 students, teachers, active military and all Thursday night peformances
To purchase tickets:  919.834.4001 or CLICK HERE.
Poster Art by Nicole White Kennedy
NOTE:  Talkbacks with the cast after each Thursday evening and Sunday matinee performance.
A young girl feels alone in the world.  Can a boy who never grew up help her to discover her best self?  Or will he lead her straight into the clutches … of Hook!?
To Subscribe to our 2017/18 Mainstage Season, CLICK HERE.
To Subscribe to our 2017/18 Breakfast Club Season, CLICK HERE.
CAST
Ben Apple
Jamal Farrar
Mark Filiaci
Cody Hill
Holley Holmes
Juan Isler
Shawn Morgenlander
Kaley Morrison
Ford Nelson
Julie Oliver
Alec Silver
TECHNICAL/DESIGN TEAM
Chris Acevedo, Production Stage Manager
Mextly Almeda, Lighting
Cory Arnold, ASM
Marshall Botvinik, Dramaturg
Ainex Carmona, Master Electrician
Robin Harris, Movement
Andrew Holloway, Asst. to the Lighting Designer
Barry Jaked, Technical Director
Elizabeth Newton, Scenery & Properties
Katy Werlin, Costumes
Meredith Riggan, Painter
Christy Rose, Sound
George Russing, ASM
Carry Vaughan, ASM & House Manager
Jasmine Wittmer, Directing Observer
Estimated run time: 1.5 hours.