---
Oct 4 – Oct 6, 2019
6:30 pm on Friday – Saturday
2 pm on Sunday

$20 adults
$10 students

Oakwood Cemetery
Written by Ian Finley and others
Directed by George Jack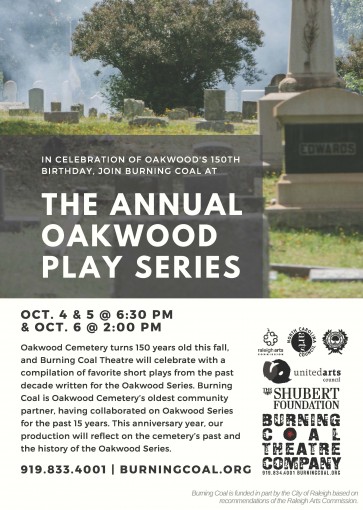 Burning Coal Celebrates 150 Years of the Oakwood Cemetery
Past favorite Oakwood plays re-mounted for monumental anniversary celebration!
RALEIGH, NC – Oakwood Cemetery turns 150 years old this Fall and Burning Coal Theatre will celebrate with a compilation of favorite short plays from the past decade written for the Oakwood Series.  Playwright Ian Finley (past North Carolina Piedmont Laureate) will be featured among this year's writers.   Each year, Burning Coal and Oakwood Cemetery team up to produce a series of plays about the inhabitants of Oakwood on the historic site.  Burning Coal is Oakwood Cemetery's oldest community partner having collaborated on Oakwood Series for the past 15 years.  This anniversary year, we reflect on the cemetery's past and the history of the Oakwood Series by reimagining favorite stories and play adaptations. Read More »
Estimated run time: 1.25 hours.
---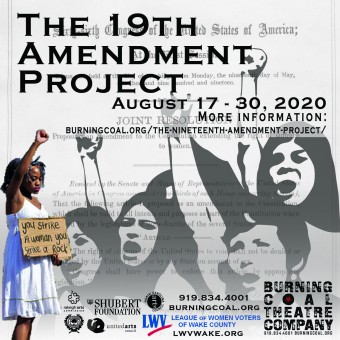 Burning Coal Theatre is pleased to present The 19th Amendment Project, a collection of short plays written by some of the most accomplished women and/or non-binary playwrights working today, writing on the passage of the 19th Amendment 100 years ago and its ongoing impact.  Each of the 14 plays will be released virtually, one at a time, between August Aug 17 – 30 at 7 pm EST.  Tickets for one viewing of each 10 minute play will be $2 (or buy the whole series for $25) and each will be available from the day each play is released through the end of September, 2020. 
The playwrights expected to participate include Clare Bayley, Hannah Benitez, Susana Cook, Kelly Doyle, Jennifer Natalya Fink, Magdalena Gomez, Tamara Kissane, Carrie Knowles, Deb Margolin, Ruth Margraff, Kate Morris, MJ Perrin, Elaine Romero, Prageeta Sharma and Ariel Zetina.
The producing arts organizations will include Agape Theatre, Burning Coal Theatre, the Gilbert Theatre, The Justice Theatre Project, NC Central University Theatre, the North Carolina Theatre, the North Carolina Opera, Raleigh Little Theatre, Sweet Tea Shakespeare, Theatre in the Park, William Peace University Theatre and the Women's Theatre Festival.
NOTE:  Subscribers to our 2020/2021 season get this series free.  CLICK HERE to subscribe.
 Our production partner is The League of Women Voters of Wake County

Estimated run time: 2 hours.
Past Productions & Events
The following shows/events have passed.
---
---
Dec 13, 2014
$5 at the door

The Mordecai House 1 Mimosa Street Raleigh, NC
Written by Ian Finley and Jonathan Fitts
Directed by Jackie Knollhuff
Coproduced by The Mordecai House
---
"One hundred years. And much has changed. But much has endured. And that's what I really want to discuss tonight."
Nov 21 – Nov 23, 2014
7:30 pm on Friday – Saturday
2 pm on Sunday

Written by Ian Finley
Burning Coal Theatre stages this premiere original dramatization of the history of Rotary in North Carolina and the leaders who shaped the growth of Raleigh. The play is written by former Piedmont Laureate Ian Finley and staged in the Burning Coal performance space in the Murphey School building on the corner of Polk and Person Streets in downtown Raleigh.  The modest admission fee of $20 per ticket will benefit the nonprofit Theatre.  NOTE:  To purchase tickets, please click http://raleighrotary.bpt.me/. 
Performances take place on Friday, November 21 and Saturday, November 22 at 7:30 p.m. and a Sunday, November 23 matinee at 2:00 p.m. 
Estimated run time: 1.5 hours.
---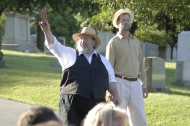 Jun 20 – Jun 22, 2014
6:30 pm on Friday – Saturday
2 pm on Sunday

$20 adults
$10 students and teachers

Oakwood Cemetery
701 Oakwood Avenue
Raleigh, NC
Written by Various Playwrights from around the Country
Burning Coal Theatre Company will premiere Oakwood: An Educator's Story, a series of short plays in the historic Oakwood Cemetery in Raleigh, NC, Friday and Saturday, June 20th and 21st at 6:30pm and Sunday, June 22nd at 2pm.  Adult tickets are $20, student and teacher tickets are $10 with valid ID, and are available by calling 919.834.4001.
Oakwood: An Educator's Story is a celebration of individuals from Raleigh's illustrious past who have had an impact on education in North Carolina and are buried in the historic Oakwood Cemetery.  These individuals include Hugh Morson, Clarence Poe, Dr. Elizabeth Delia Dixon-Carroll, James Joyner, Daniel Harvey Hill, Jr., Samuel Fox Mordecai, and Frederick Olds.  The evening features new plays by nationally acclaimed playwrights Guadalupe Flores, MJ Halberstadt, Margaret Hoffman, Michael S. Parsons, Lee August Praley, and Jaclyn Villano.  The cast of Triangle-based actors will include Jessica Heironimus, George Jack, Benji Jones, Victor Rivera, Ryan Patrick Sheehe, and others. 
Estimated run time: 1.25 hours.
---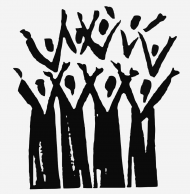 Mar 13 – Mar 23, 2014
7:30 pm on Thursday – Saturday
2 pm on Sunday

$25 Regular Admission
$20 Seniors (65+)
$15 Students, Teachers & Active Military
$15 Thursday Admission

Coproduced by the Raleigh Boychoir
Jerome Davis, Artistic Director
Robert Unger, Choral Conductor
Written by Ian Finley
Choreographed by Robin Harris
Directed by Ilana Rozin
Burning Coal Theatre Company and the Raleigh Boychoir will present Civil Rights Through Song: A Choral History of Raleigh Through the Civil Rights Era, a performance using choral music, dance and drama to celebrate the Civil Rights Movement of the late 1950s/early 1960s. 
When a chance encounter at a City of Raleigh Arts Commission (CORAC) workshop earlier this year brought together two seemingly unrelated arts organizations—Burning Coal Theatre Company and The Raleigh Boychoir—no one would have imagined that the seed of an idea planted that day would develop into a real-life collaboration. Funded in part by a CORAC collaboration grant, Civil Rights Through Song: A Choral History of Raleigh Through the Civil Rights Era is a performance piece that will include choral music, dance and dramatic narrative.
The Civil Rights Through Song performance will feature three distinct choral sections interspersed with dance and spoken word narrative. One section will include choral music from the late 1950s to early 1960s sung by white Raleighites who would have been in the segregated Raleigh City School System at that time. The second portion will present musical works sung by African American Raleighites who would have been Read More »