---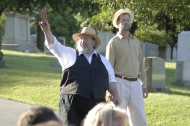 Jun 20 – Jun 22, 2014
6:30 pm on Friday – Saturday
2 pm on Sunday

$20 adults
$10 students and teachers

Oakwood Cemetery
701 Oakwood Avenue
Raleigh, NC
Written by Various Playwrights from around the Country
Burning Coal Theatre Company will premiere Oakwood: An Educator's Story, a series of short plays in the historic Oakwood Cemetery in Raleigh, NC, Friday and Saturday, June 20th and 21st at 6:30pm and Sunday, June 22nd at 2pm.  Adult tickets are $20, student and teacher tickets are $10 with valid ID, and are available by calling 919.834.4001.
Oakwood: An Educator's Story is a celebration of individuals from Raleigh's illustrious past who have had an impact on education in North Carolina and are buried in the historic Oakwood Cemetery.  These individuals include Hugh Morson, Clarence Poe, Dr. Elizabeth Delia Dixon-Carroll, James Joyner, Daniel Harvey Hill, Jr., Samuel Fox Mordecai, and Frederick Olds.  The evening features new plays by nationally acclaimed playwrights Guadalupe Flores, MJ Halberstadt, Margaret Hoffman, Michael S. Parsons, Lee August Praley, and Jaclyn Villano.  The cast of Triangle-based actors will include Jessica Heironimus, George Jack, Benji Jones, Victor Rivera, Ryan Patrick Sheehe, and others. 
Estimated run time: 1.25 hours.