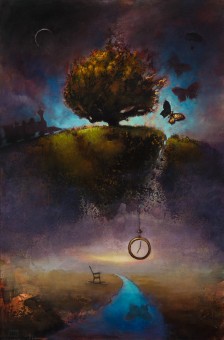 Darkside by Tom Stoppard & Pink Floyd
Directed by Pálína Jónsdóttir
Thursdays through Saturdays at 7:30 pm, Sundays at 2 pm
(East Coast Premiere)
October 12 – 29, 2017
Tickets $25 (adults), $20 (seniors 65+), $15 students, teachers, active military and all Thursday night peformances
To purchase tickets:  919.834.4001 or CLICK HERE.
NOTE:  Talkbacks with the cast after each Thursday evening and Sunday matinee performance.
A young woman and a young man go on a journey of discovery.  In this whimsical tale by the master of witty wordplay, Tom Stoppard (Shakespeare in Love, Rosencrantz & Guildenstern are Dead) joins up with the chief purveyors of Mood Rock, the legendary Pink Floyd, whose album Darkside of the Moon stayed on Billboard's Top 200 Albums chart an astonishing 14 years, to create a fast and funny ride that will leave you guessing, laughing and listening in equal measures.  
Stoppard's incredible tale is blended seemlessly with Pink Floyd's Darkside of the Moon in this triumphant consideration of love, mortality, nature and puns.
To Subscribe to our 2017/18 Mainstage Season, CLICK HERE.
To Subscribe to our 2017/18 Breakfast Club Season, CLICK HERE.